The EWB Challenge Showcase for 2020 has wrapped up three days of online hosted pitches, presentations and webinars, celebrating the hard work of over 10,000 university students. Our partner for this year, the Centre for Appropriate Technology (CfAT), has been inspired by student ideas and insights, some of which may influence our technology development work into 2021, which we will be looking at together soon. All student project reports, summaries and pitches from the EWB Challenge are shared with CfAT – and the EWB team will be looking at them with CfAT to explore what's next.
The Showcase Awards
A big congratulations to our award winners who were recognised at the annual awards ceremony!
Highlights from the final EWB Challenge pitches
EWB Challenge Pitches delivered solutions including water purification (UQ), mobile cold food storage for traditional hunting (RMIT) and Indigenous artefact storage (Curtin University). A sediment basin to reduce runoff from unsealed roads by the University of Adelaide team took out the Aurecon Sustainability Award, and a visitor shelter made from a shipping container from the Melbourne Polytechnic team claimed the People's Choice Award.
The winners of the Centre for Appropriate Technology Community Partner Award was the team from the University of Technology Sydney with their app to support rangers to manage tourists and enhance the visitor experience. The Showcase Award went to the University of Melbourne with their strategies for remote fire management including drones and community information forums.
Exploring

EWB

's Technology Development Approach
This workshop by EWB staffers Sam Perkins and George Goddard was a deep dive into the way we develop solutions at EWB. It takes an iterative approach to design, with a number of Guiding Principles along the way. Key messages included the importance of managing and embracing ambiguity, taking the time to define your impact, and applying a strengths-based approach.
Reflections from facilitator, George: "Amidst finding what I wanted to do, I joined a group that created positive impact. Sustainable development is the business of every country, we are all interconnected."

What did attendees say? Panayioti: "My biggest takeaway would be when I'm designing a structure in the future, it is important to think about how it will impact the community."
Research Symposium highlights
With 6 student research presentations and 3 guest speakers speaking about various country contexts, participants were taken down a lane rich in insights and discoveries!
The Influencer Award was awarded to Hannah Elvery with her project 'Landslide management in developing contexts'. Read more about Hannah's journey to an Influencer Fellowship with EWB. Jasmine Walker took out the Community Engagement Award with her project 'Off-grid washdown stations in Cape York – A comparative analysis'. And the People's Choice Award was a draw…! It went to Jo Katz's project on poultry manure for ATEC* Biodigesters and Siran Uhrig's project on washing and drying menstrual hygiene materials in Timor-Leste.
Webinar: Evolving Technical Professionals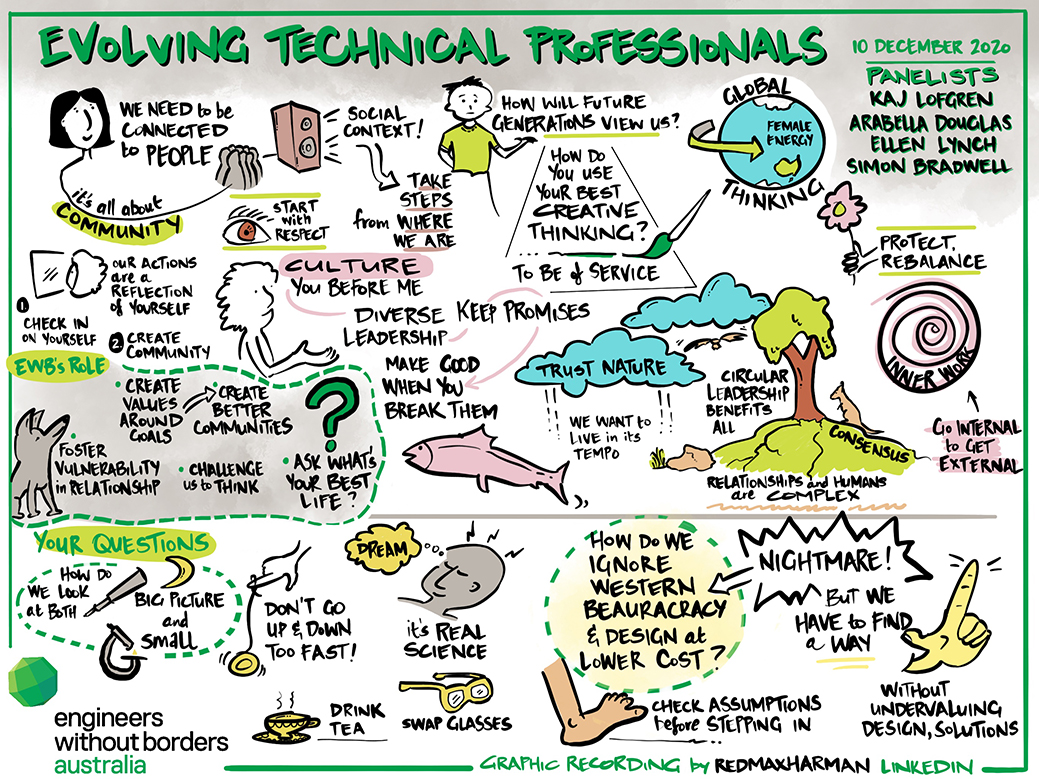 Our host Sarah Herkess and panellists Ellen Lynch, Arabella Douglas, Simon Bradwell and Kaj Lofgren took us on a critical and philosophical conversation which took a look at how we need to be better as technical professionals to tackle the world's most complex problems of our time. There was no better way we could think of to launch the education part of EWB's 2030 Strategy. Graphic artist Max Harman recorded the conversation in the image above. You can also watch the replay here.
Staying connected with EWB
With the EWB Challenge done and dusted, we encouraged all students to stay involved with EWB. This included a session on Getting Involved with EWB Locally. It covered connecting with your local chapter, remote volunteer mobilisation opportunities (check out our volunteer board any time), and volunteering for our School Outreach program to support pathways into STEM from diverse and marginalised backgrounds. Read more about the volunteers behind the volunteers through this blog post! Those still studying can explore their final-year research with EWB on real-world topics identified by our partners across the world through the EWB Research Challenge, or even seek an Influencer Fellowship while doing so.