Volunteer with us
EWB volunteers are passionate about human-centred engineering and creating a positive change in the world.
Current opportunities
EWB Australia was founded in 2003 on the idea that engineering, along with complementary skill sets and aligned organisations, can lift people out of poverty. One of the best ways to contribute to making this vision a reality is to work with us, participate in one of our programs, or volunteer. There are many opportunities to give your time, in ways that align with your skills, interests and experience.
Code of Conduct
To ensure that everyone has an enjoyable and enriching experience, EWB Volunteers are expected to bring a spirit of respect and integrity to their engagement with EWB. Our Volunteer Code of Conduct guides our Volunteers as they contribute to EWB's mission and vision.
Current volunteering opportunities
Technical roles that support our programs and projects overseas and in Australia:
Northern Rivers NSW Flood Response (in-country, Australia project)
With over 3500 flood damaged houses deemed uninhabitable, many rural bridges broken and roads severely damaged, landslips causing instability and critical communal and private infrastructure damaged, communities in the Northern Rivers of NSW are asking for your help. Engineers Without Borders (EWB) Australia is calling for qualified engineers from a range of disciplines, including civil, structural, geo-technical and water engineers, to sign up as volunteers. By volunteering for a few days, a long weekend or longer you could help flooded families get back into their homes. You need to get yourself to the region, but once there you can coordinate with other volunteers to support recovery efforts and will be supported and coordinated by our partner HHUG (Holding Hands Under Ground).
For more information, please refer to this project description. Applications will be accepted on a rolling basis until the need is met.
Water Engineer Mentor (in-country, Cambodia project)
This role will support EWB Australia's Cambodia office to plan, deliver and monitor projects within its WASH Program and increase the technical capacity of EWB's engineering staff and community partners in designing, implementing and evaluating WASH infrastructure for challenging environments.
A degree in water engineering discipline (minimum), postgraduate degree preferred.
Professional experience in designing, planning and maintaining indirect piped water supplies, preferably in a remote or humanitarian context.
Knowledge of drinking water treatment processes and water quality standards.
Ability to communicate technical content in clear, accessible written and verbal language. Strong mentoring and coaching skills.
Ability to manage and prioritise work without close supervision, and to work collaboratively across multiple EWB teams.
Ability to work with a diverse range of stakeholders of varied cultural and linguistic backgrounds.
Sustainable Energy Mentor (in-country project, Cambodia)
This role will support EWB Australia's Cambodia office to plan, deliver and monitor Sustainable Energy Programs. You will assist in the design, planning, implementation, monitoring and evaluation of EWB's Sustainable Energy projects, and help EWB in Cambodia manage relationships with local partner organisations and government agencies.
A degree in an engineering discipline (minimum), postgraduate degree preferred
Experience in electronic hardware and firmware design and development.
Experience in Internet of Things (IoT) design and development.
Understanding of computer language code.
Professional experience in Sustainable Energy, preferably within a humanitarian context.
Ability to communicate technical content in clear, accessible language, both written and verbal.
Ability to manage technical documentation.
Ability to manage and prioritise work without close supervision.
Ability to work independently and collaboratively with other EWB teams across the organisation.
Civil Engineer Mentor (remote or in-country assignment, Samoa project)
This remote/in-country assignment has been created to develop engineers and gain more experience in proper designing of structures such as culverts, and bridges focusing on extreme weather conditions. The Civil Engineer Mentor will play a pivotal role in supporting the Land Transport Authority (LTA), a Public Body responsible for land transport infrastructure in Samoa. Its vision is to sustain the provision of a safe national road network in Samoa and identify technical solutions to some of the issues faced by engineers.
This assignment will be supported by the Australian Volunteers Program. In-country assignment is preferred.
For more information and to apply, please read the Position Description. Applications will be reviewed on a rolling basis.
Climate Change Mentor (in-country project, Cambodia)
This role will support EWB Australia's Cambodia office
to engage in systematic and strategic capacity development initiatives around climate change issues.
Bachelor Degree (or higher qualification) in climate sciences, environmental sciences, earth sciences, natural resource economics, and political science or related social sciences.
Experiences on issues related to climate risk, vulnerability reduction, capacity development, research, identification of climate-related issues, international development work related to climate changes.
Familiarity with and contributions to high-level policy dialogues and advisory functions involving high-level government counterparts and other stakeholders.
Thorough knowledge and understanding of the global debate on climate change and experience in multilateral environmental debates and dialogues and processes.
Experience in advising on climate change adaptation, energy policy development and planning a major asset.
Ability to manage and prioritise work without close supervision.
Ability to work independently and collaboratively with other EWB teams across the organisation.
Volunteering roles in-country are back!
Your ongoing support over the last two years allowed EWB to maintain volunteer roles, if in a remote capacity. Now, after the repatriation and suspension of mobilising volunteers due to the pandemic, the Australian Volunteers Program, supporting our overseas volunteer placements, has announced the return of in-country volunteering! We are delighted to resume these opportunities.
Roles that support our work in the Australian office:
EWB Chapter Website Content Coordinator
In order to enable Chapters to more easily and visibly communicate their initiatives and promote activities and opportunities to their members and partners, EWB is creating individual websites for each Chapter.  This role will continue the work that has commenced, and finalise the project. Find out more and apply.
Production Assistant (The Journal of Humanitarian Engineering)
The Journal of Humanitarian Engineering (JHE), established in 2012 by EWB Australia, is looking for a Production Assistant to work with editors and authors to ensure content is ready for publication. The Production Assistant will manage the publication process once a manuscript has been accepted by an Associate Editor through to publication.​ Find out more and apply here.
Videographers, Photographers and Journalists (Northern NSW Region)
We're looking for photographers, videographers and journalists based in the northern NSW region to help EWB Australia and local partner HHUG to communicate the stories of flood-affected communities and the impact of our volunteer-led flood recovery response. Images, footage and stories captured will be used in EWB blog posts, social media channels and our website.
This role will work with the Digital Marketing Lead based at National Office in Melbourne and HHUG/EWB volunteers on the ground to capture content for storytelling purposes.​ Find out more and apply here.
Roles in our Chapter network:
Media and Communications Officer (VIC Region Chapter)
Re-launch of Queensland Region Chapter!
We're excited to be re-launching our Queensland Region Chapter ready for a bumper 2022! We're looking for passionate engineers from new graduates to retirees who are looking to connect with like-minded people, learn more about human-centred engineering and community development, and join local projects and initiatives.
Our Region chapters are open to everyone, but are typically made up of those working in or retired from their professional discipline. If you'd like to learn more about getting involved and help us bring this important Chapter back to life please contact the Queensland Region Mobilisation Coordinator – Jeeban Poudel via qld.mobilisation@ewb.org.au
New Chapters in SA and NSW!
We're currently supporting the start-up of two new student Chapters to be based out of the University of South Australia and University of Wollongong! To help support students with this process we're on the look-out for volunteers with ties to these universities or their local communities. Do you know someone who might be keen to help students for connections with academics and rally engineering students to get involved? Please reach out to our Chapter Engagement Lead, Erin via e.wicking@ewb.org.au
Local Chapters
Join a local chapter to participate and explore volunteering opportunities close to you.
Volunteer overseas
Become an Australian volunteer field professional on a 9-20 month assignment.
National office
Gain work experience, learn new skills and support our programs, based at our HQ.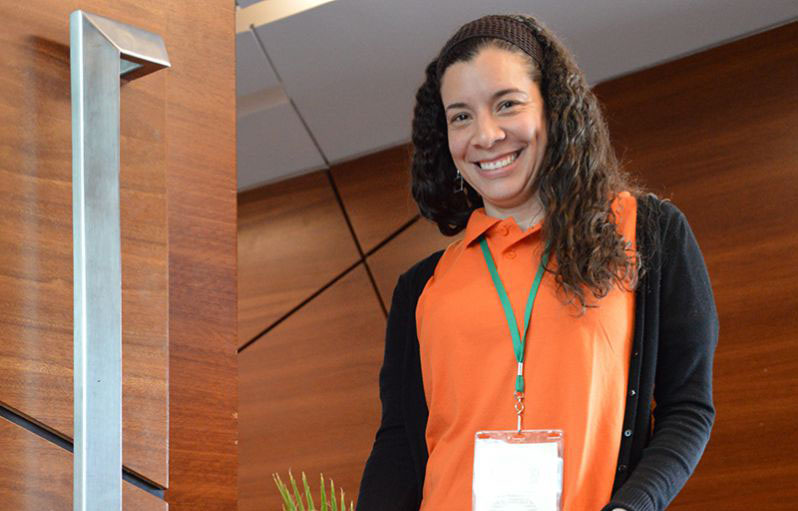 "My journey as a volunteer has encouraged me to believe that everything is possible. The biggest reward of volunteering has been my own satisfaction and personal growth."
Volunteering in the Torres Strait
Chelsea Hayward, supported by the 2017 MECCA M-Power scholarship, travelled to the Torres Strait Islands with a group of volunteers to pilot some new School Outreach resources.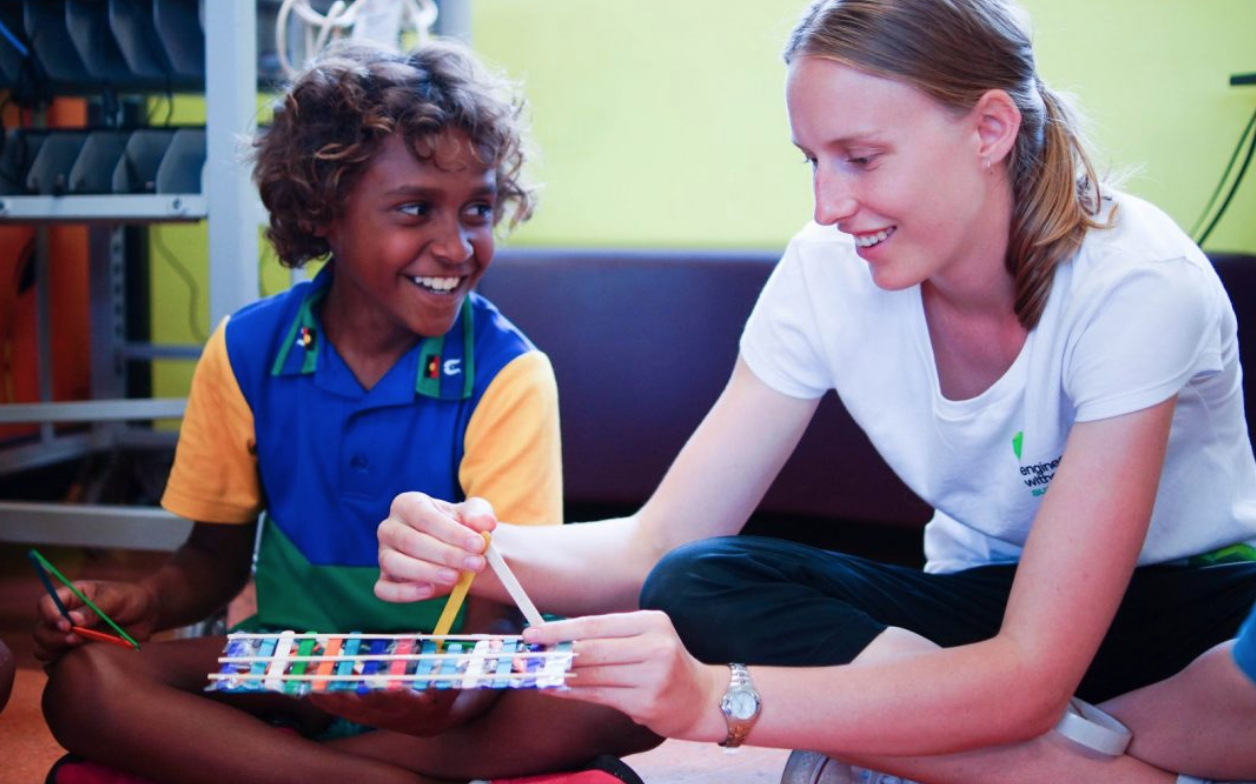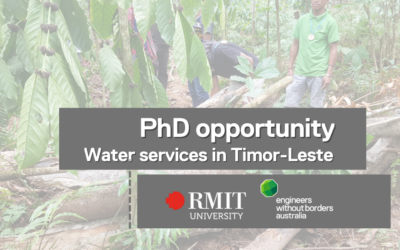 Engineers Without Borders Australia (EWB) has been collaborating with government bodies and community-based organisations, such as Permatil, in Timor-Leste to improve sustainable access to water through community led catchment management and water conservation. This...