Each year the Danny Awards, named after EWB founder Danny Almagor, recognises those in our volunteer network who have made an outstanding contribution to EWB's mission.
The 2020 awards were held online on Thursday December 17 2020. Here are the winners…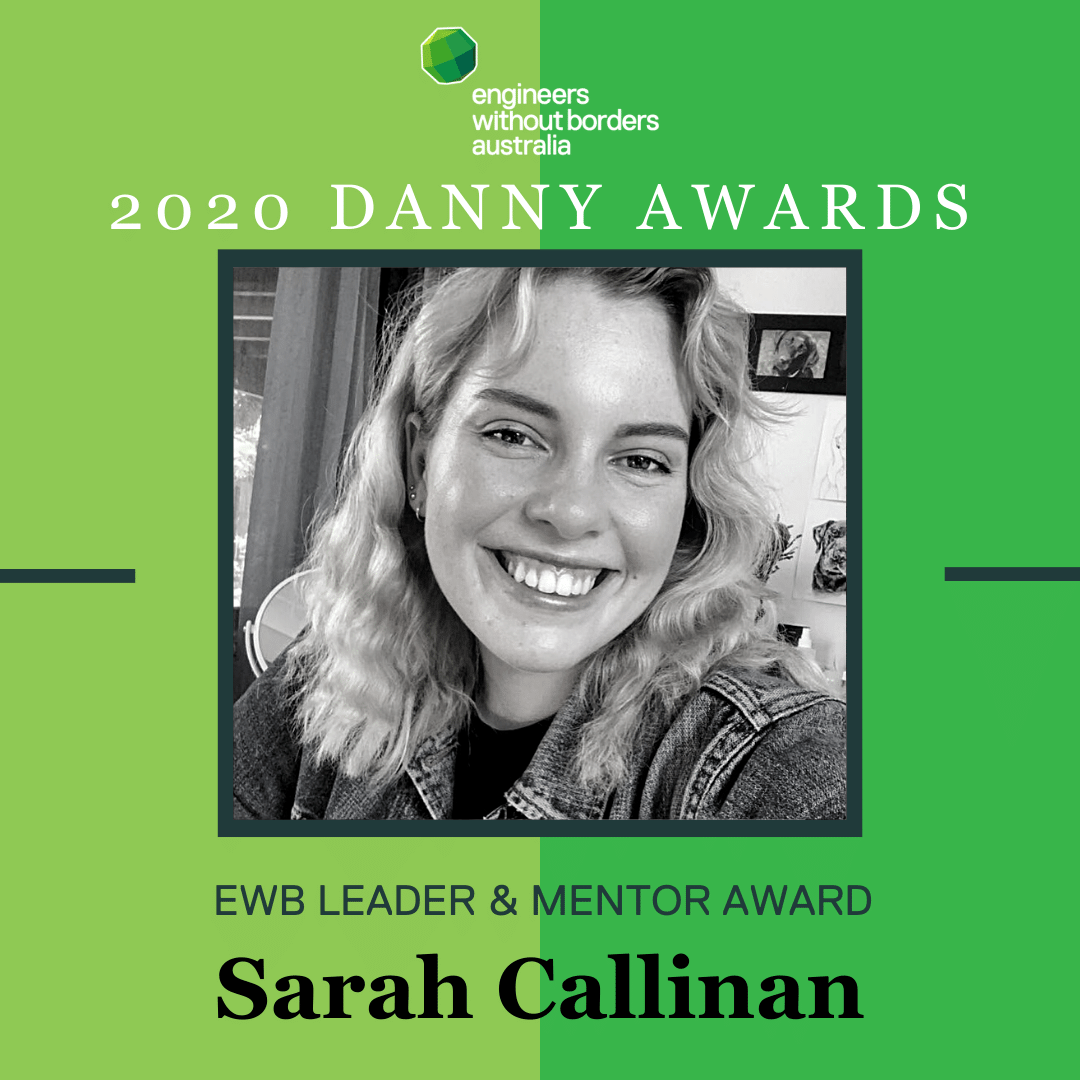 Leader & Mentor: Sarah Callinan
When commencing her role as President in 2019, Sarah Callinan had three committee members and, in her own words, "felt that I had failed before I began". Through her leadership and dedication to the chapter, the ACT chapter has recently elected a 2021 Executive Committee with nine filled positions as well as a growing base of volunteers. Sarah was able to create this base through being a vocal advocate for EWB across ANU, participating in events such as co-moderating a humanitarian engineering alumni with Jeremy Smith this year.
Sarah has held an executive position in the EWB ACT chapter for the past four years, and her enthusiasm and approachability has been formative in the growth of both numbers and diversity of our team both in the executive and our broader volunteer base. For example, our executive team is largely women, demonstrating how Sarah has fostered an inclusive space in a field that can be deemed intimidating or inaccessible for female-identifying people. 
Moreover, Sarah placed a significant emphasis on retaining students after they graduate as well as mobilising our working force members. The result of Sarah's leadership over the last four years is that the ACT chapter, which is comparatively smaller and heavily-student based, has grown and diversified to a significant degree, and is a testament to Sarah's hard work.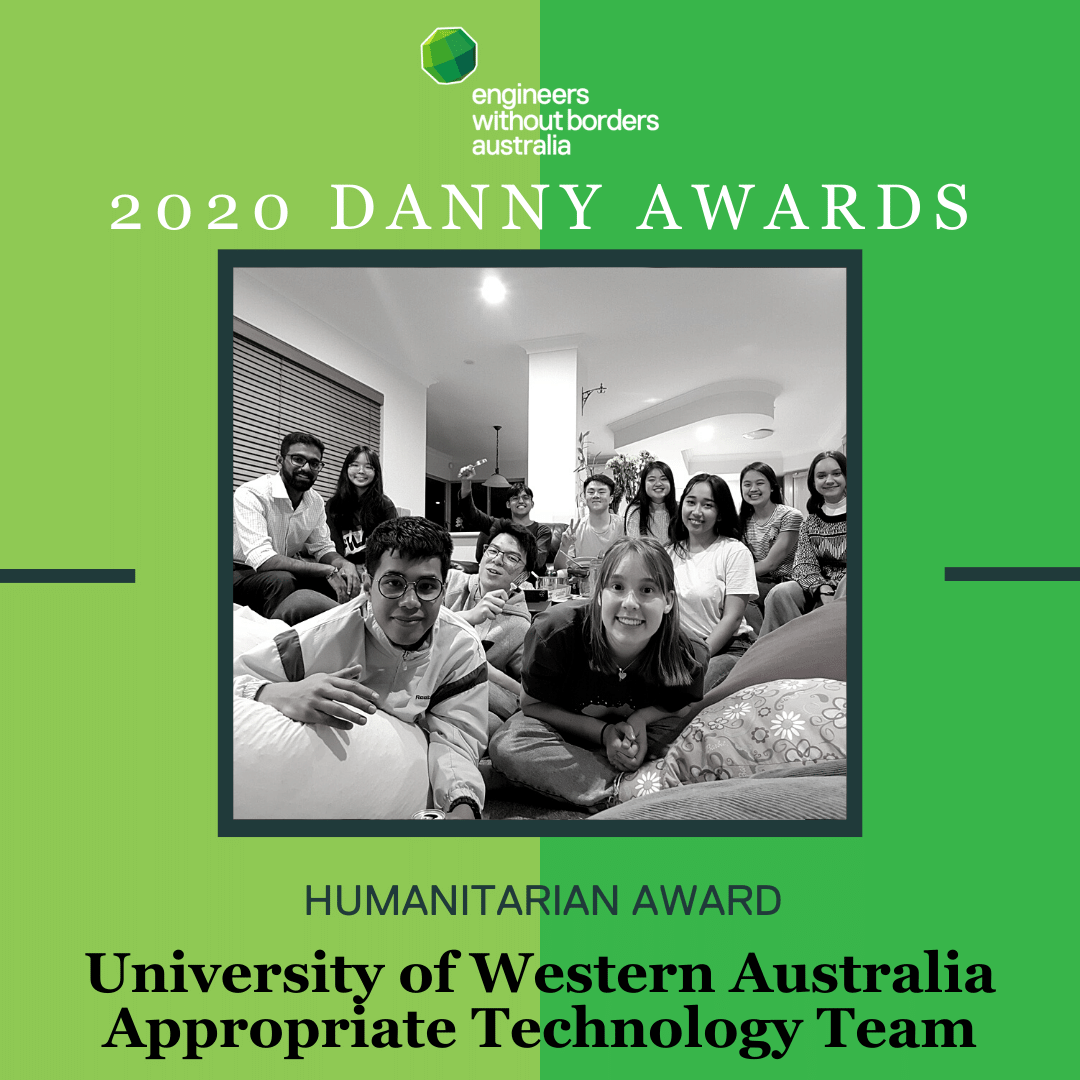 Humanitarian Engineer: UWA Appropriate Technology Team
The UWA AppTech team have in the past year worked closely with Greenbatch, a start up plastic recycling company that has been making large waves in WA. The AppTech team specifically worked on the research and development of methods to transform plastic bottles into 3D printing spools. 
After many trials they made a breakthrough on the project. They have documented their work and have been an excellent example of the type of quality work that we are and should be known for. They have improved our relationship with Greenbatch and we have even seen interest from their employees in volunteering with EWB. This is a great testament to the behaviour of this team as EWB ambassadors. 
WA is one of two states in the world that does not have some form of plastic recycling or a process to handle plastics within their own borders. Greenbatch plans to deploy this technology to primary schools to encourage plastic recycling that can then be used for their 3D printers. Two schools have already been identified for this work. Greenbatch have been extremely grateful for the help that this team has provided.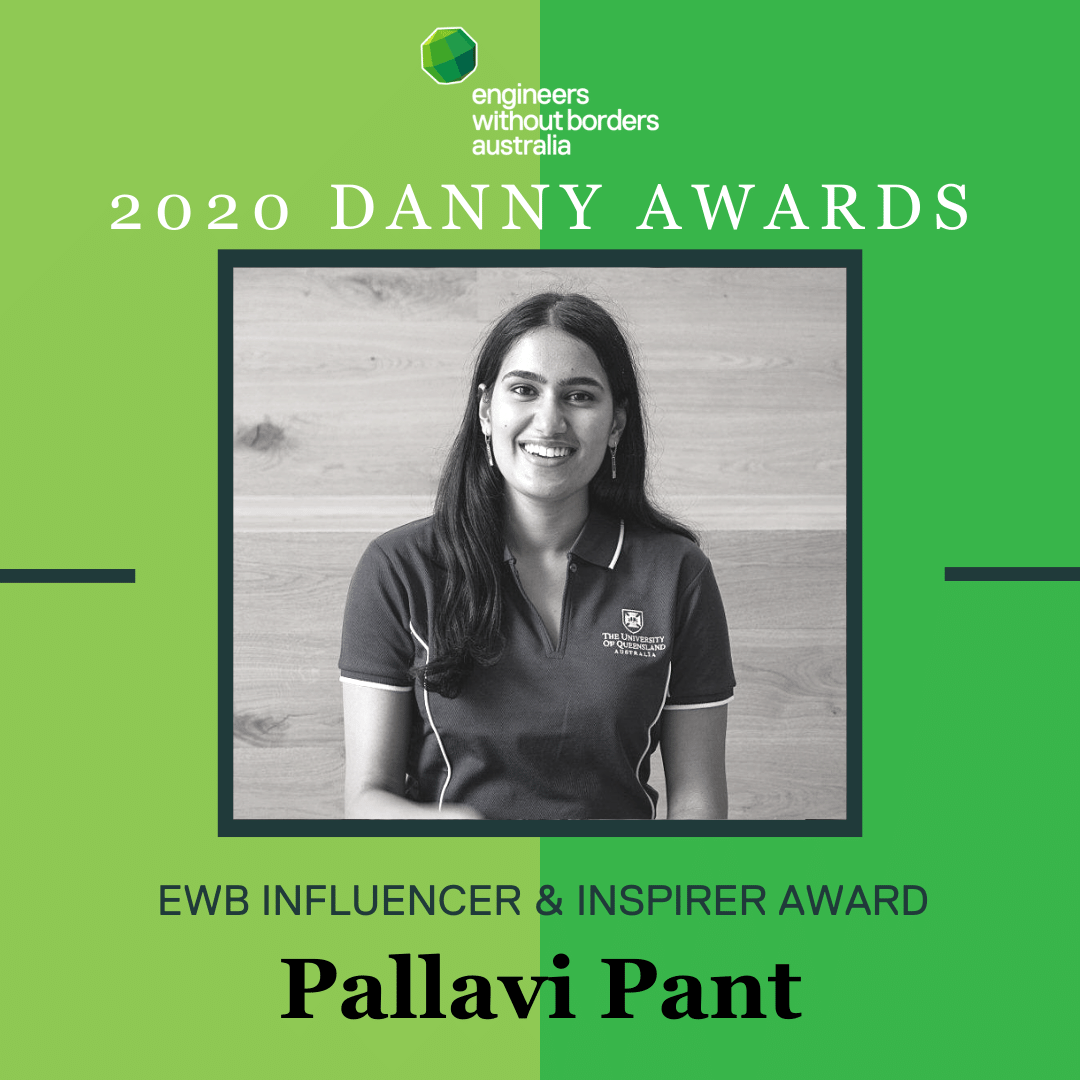 Influencer & Inspirer: Pallavi Pant
Every year, EWB joins HASS-based societies to deliver the largest gathering on humanitarian careers on campus. This year, facing a lethargy that was felt around organising another event online, Pallavi led – as EWB's events coordinator – the effort to adapt humanitarian ideals on campus to the current platform. She mobilised society leaders of Oxfam, Red Cross, Geography & Environmental Management, Effective Altruism and Enactus – managing a 20-person committee to deliver a virtual gala within 3 weeks. 
She stepped up in every aspect of organising from running meetings to keeping social media promotions on schedule. It was some mix of making her own mark and feeling the threat of students' interest in this obscure sector slipping away for which EWB can be viewed as a mobilising force among the student humanitarian community. And that leadership among a wide cross-section of the societies at UQ placed EWB as an authority on career-building and large social functions – to the likes of the Engineering Undergraduate Society – and thus bolstering its legitimacy beyond an 'interest'  among engineering students. 
The idealism that flowed between panellists and audience members gave way to an emotional conclusion, when our own Gavin Blakey teared up. It matched the fervour that Pallavi had felt in years past. It was her determination that left students not only with connections but also without any illusions of where their responsibilities will lie in the workforce.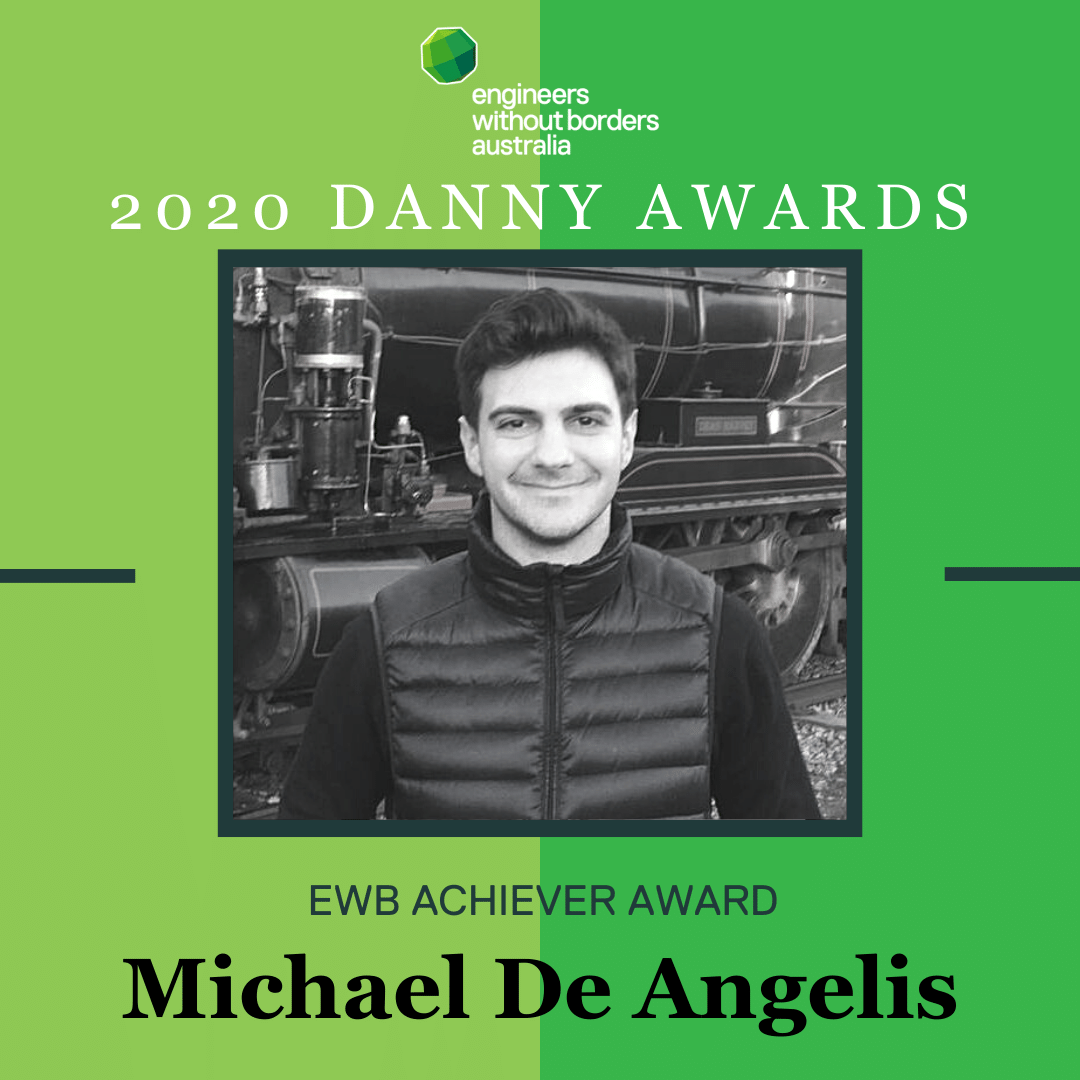 Achiever 1: Michael De Angelis
Michael has been heavily involved in the launch and the success of both the mobilisation program as well as the growth of the South Australian region chapter throughout the year. 
Without Michael the SA chapter nearly certainly would not exist. He held the chapter afloat in caretaker mode for close to 2 years whilst doing what he could as a one man band. Since then he has supported and grown the chapter to 4 members so that it is able to have an active committee as well as rebuild its corporate partnerships and regain engagement from its membership base.
Michael has since moved into the role of Mobilisation Officer where he has supported the staff roles to set up the mobilisation function, from understanding how the process can be run better and aiding in development of systems such as the volunteer database in order to quickly identify alumni for new projects based on their expertise.
Michael is also the project lead as well as the lead mobilisation coordinator for the Birthwatch project: a project which involves designing of a timer to assist traditional birth attendees in rural Myanmar who are innumerate, to keep track of time during the birthing process. He has played a pivotal role in working on the project as the project lead from inception to near completion.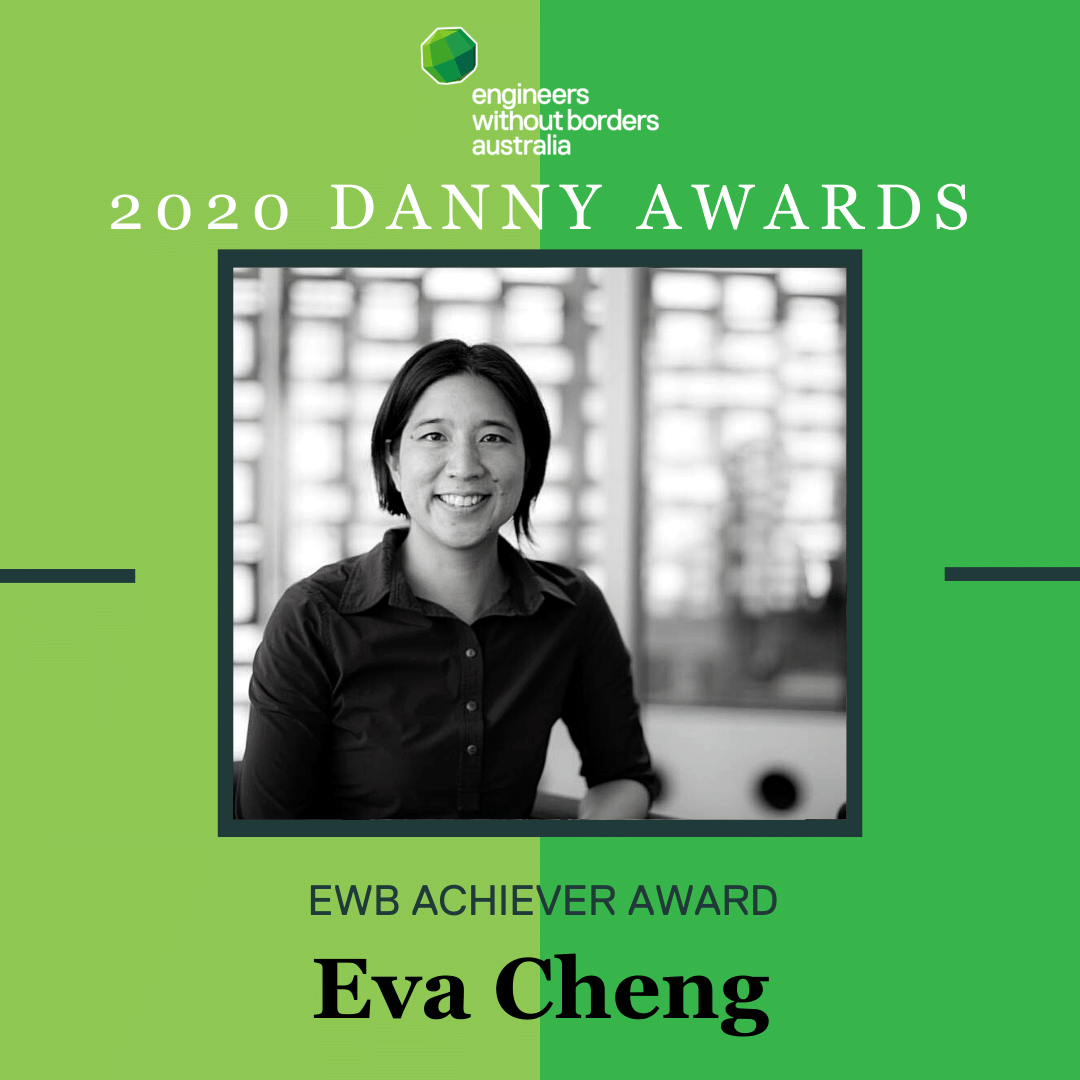 Achiever 2: Eva Cheng
As an academic in University of Technology Sydney (UTS), Eva has created opportunities for chapter volunteers to engage with the EWB Challenge as project mentors, served as a judge for the inter-uni team's flagship event – the Big Design EWB, and has consistently provided local support for the staff team and region chapters, from assistance with systems, resources and exposure for events such as the National Council and Region Retreat, and opportunities such as the Influencer Fellowship and Design Summits. 
Apart from being a key driver for UTS' partnership with EWB, Eva coordinates the EWB Challenge program within UTS, mentors for the Design Summit, supervises participants of the EWB Research Challenge and most recently formed a Humanitarian Engineering Special Interest Group within UTS to connect academics across UTS in the humanitarian engineering movement. 
Eva's work as a field professional with Feto Enginhera and as the Director of the Women in Engineering and IT program in UTS adds to the point that Eva is an absolute all-rounder, who despite her hectic schedule and heavy workload, is always willing to give a hand to support EWB in achieving more of its goals.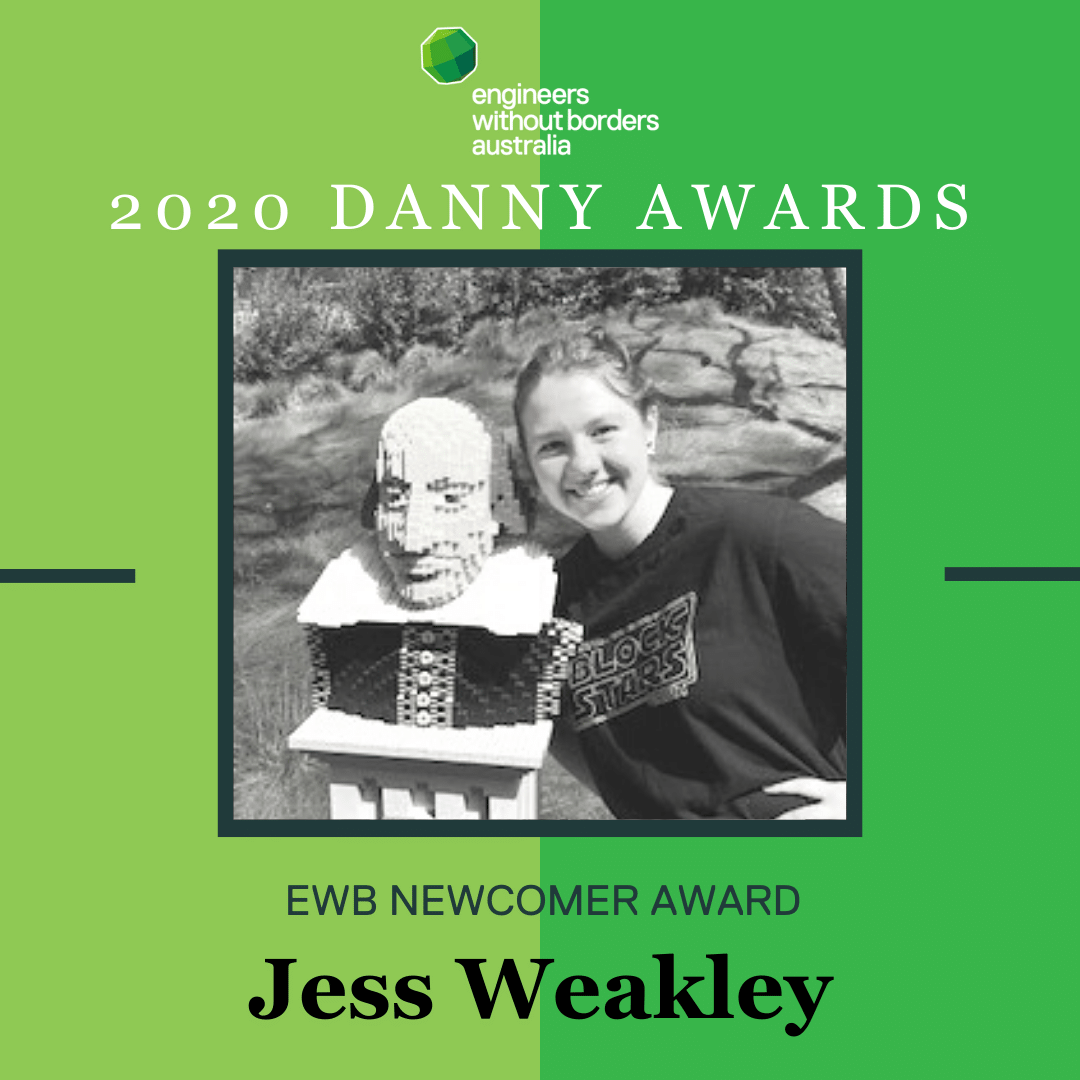 Newcomer 1: Jess Weakley
Only in her first year at university, Jess has already demonstrated a sincere enthusiasm for and dedication to spreading awareness of humanitarian engineering, which has been highlighted through her volunteering at the ACT Chapter. In her first few weeks of university, Jess was elected one of our Schools Outreach Leads, after expressing enthusiasm at the prospect of collaborating with schools from her home in the Southern Coast to organise a "regioneering" trip to present our workshops. 
Despite COVID-19 altering these plans, Jess's enthusiasm didn't waver, and rather she found various online avenues to channel her enthusiasm, including being a panelist on a humanitarian engineering panel organised by Jeremy Smith. Jess also established, through contacts and friends, her own webinar series about humanitarian engineering, helping EWB's goal of increasing exposure to the discipline itself. Her enthusiasm inspires the rest of the team, always being readily available to help on different projects, such as assisting in the transition from in-person Schools Outreach workshops to online, instead. 
Despite spending a good portion of the year away from ACT due to the effects of the pandemic, even over the internet Jess was able to foster enthusiasm and excitement from the rest of the team and our broader volunteers. The newly elected Mobilisation Coordinator for 2021, we are very excited for Jess to continue contributing to the ACT team and broader EWB with such passion and commitment.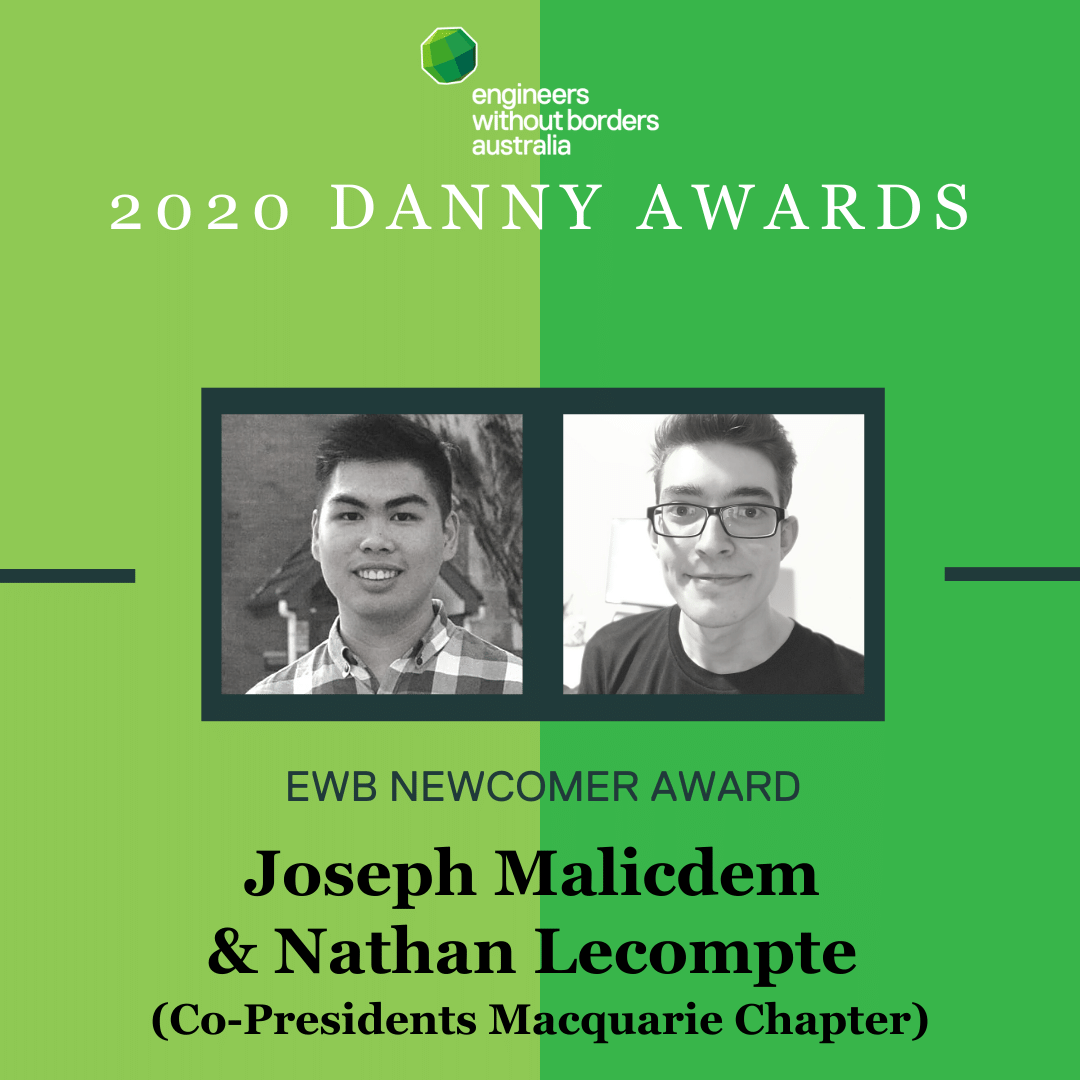 Newcomer 2: Joseph Malicdem & Nathan Lecompte
Joseph first encountered EWB at a hackathon in August 2019, and less than a month later he joined the inter-uni Humanitarian Engineering Conference and the National Council applying to form a chapter! Nathan has also, while establishing the Macquarie chapter with Joseph, jumped right into the mobilisation work for the Accessible Moto Software Dashboard, contributing to EWB International Programs. 
Joseph and Nathan have both put in a lot of work in establishing the Macquarie Chapter this year. From getting the word out on campus, to building a team, creating the required systems, keeping in contact with members, to liaising with university personnel to formalise the chapter as a university society (amidst all the rapid changes), Joseph and Nathan have shown their commitment to engaging their university community with EWB. They have also played an active role in the NSW inter-uni team, delivering events ranging from Big Design EWB – an online hackathon event, to industry nights featuring diverse panels and fun trivia nights. Establishing a chapter during COVID is already no mean feat (they ran their first ever nEWBie night as a chapter virtually!), and what they have accomplished is really impressive for their first year.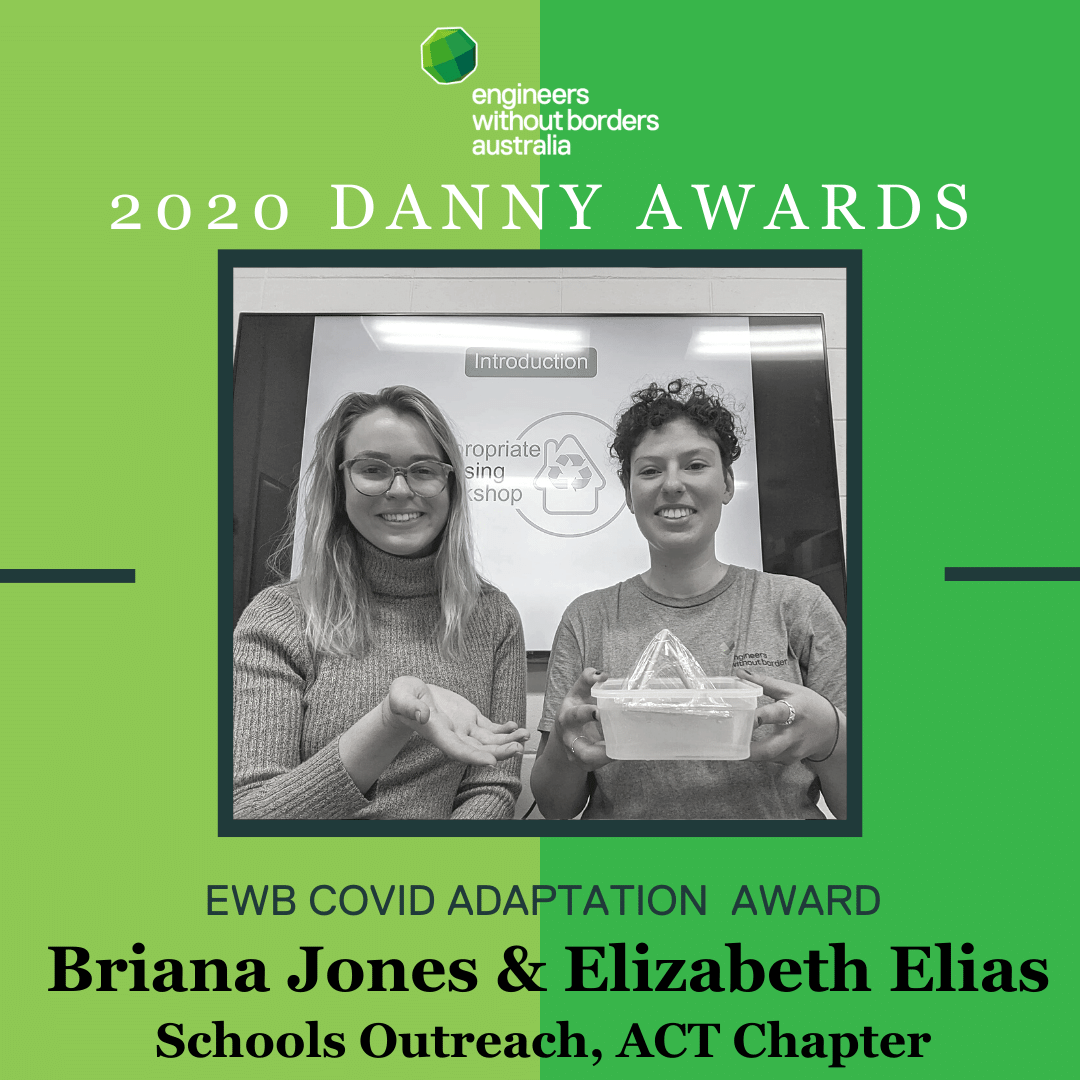 COVID Adaptation Award: Briana Jones & Elizabeth Elias
Briana and Elizabeth have been instrumental in translating the Schools Outreach workshops from in-person to online, collaborating with our Executive and Schools Outreach team to determine how these workshops could run in a way that maintained both the important awareness of EWB and humanitarian engineering, as well as remaining fun and interactive. Their success in this endeavour can be seen through ACT being the first chapter to run online workshops, as well as the multitude of online workshops lined up for December and January! 
One outcome of this is the creation of "kits" which can be sent to schools we frequently work with in order to preserve the tactile engagement even through Zoom. Briana and Elizabeth have consistently risen to the challenges 2020 has faced us and now view these developments as an opportunity to better engage more rural audiences, which is a testament to their successful adaptation in this strange year.
Over the course of this year, Bri has also written a gender analysis for Cambodia and campaigned for the creation of a new module involving recycled plastics. Elizabeth, who will be taking on the role of Schools Outreach Coordinator for 2021, is now running various trainings, ensuring that we have volunteers able to run these new-and-improved modules, giving the EWB ACT Chapter a COVID-adapted Schools Outreach team before the end of 2020.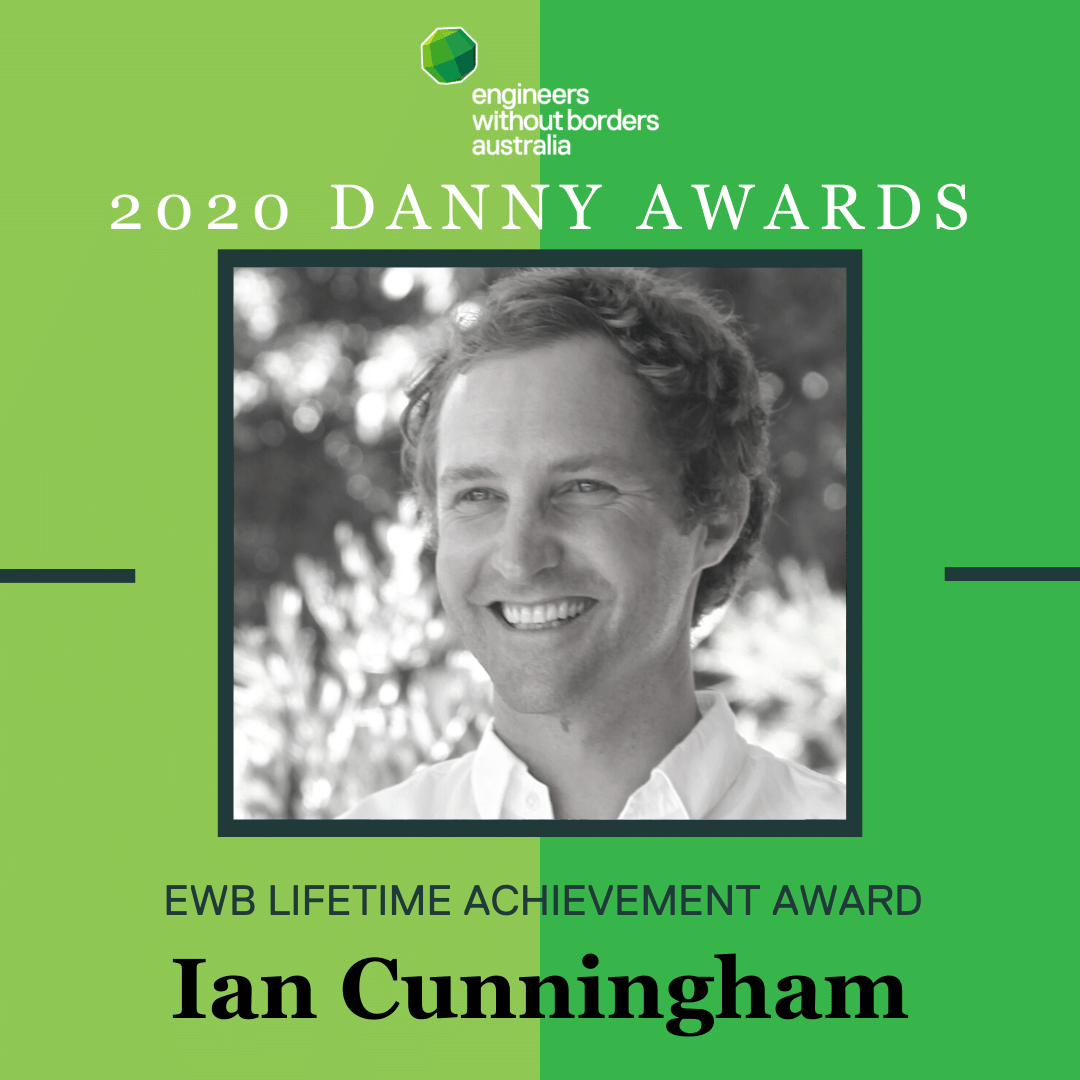 Lifetime Achievement Award: Ian Cunningham
Ian has made a huge contribution to EWB over a number of years as a field professional, staff, and chapter volunteer. He was an early field professional assisting the community of Tenganan in Bali, Indonesia as they designed, built, maintained and managed their water supply. He followed this up with a staff role as South Asia Program Manager where he was a supportive manager of EWB's field professionals in India, Nepal and Sri Lanka. Back in the office, he greatly improved reporting practices which allowed EWB to gain AusAid accreditation. Throughout all of his development work Ian has been a champion of strength-based and participatory approaches, which he is now exploring in PhD research at UTS.
Ian has made further contributions to EWB even after leaving the staff role. He has led major initiatives such as arranging an art exhibition of painted toilets at Circular Quay to mark World Toilet Day in 2014, and supported the NSW region fundraising volunteers in identifying and applying for grants that increase our capacity for impact. He continues to be a mentor for other members, whether it is in sharing further insights he has gained from his studies or teaching students in Design Summits or the EWB Challenge. Whether in his roles as staff member, in Design Summits, and as a local volunteer, Ian continues to advocate for members and volunteers and keeps us true to our purpose to create meaningful change for the communities we work with.