National Volunteer Week (18-25 May 2020) is a time to celebrate those extraordinary individuals who contribute to EWB Australia's mission. Please join us for two webinars that explore what it means to volunteer and where volunteering can take you, and to see what new opportunities are available at EWB, as we navigate volunteering remotely.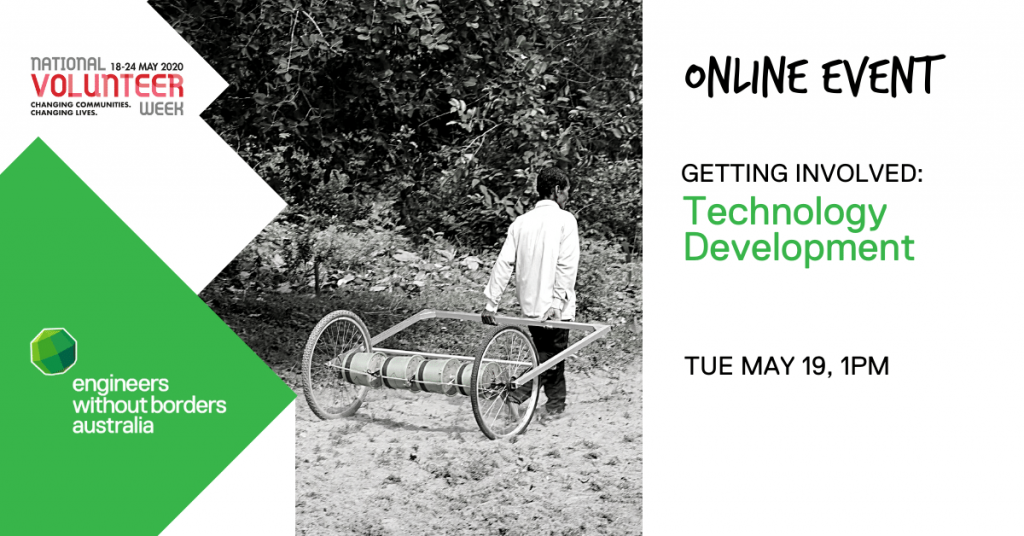 Tuesday May 19, 1pm to 2:15pm
Getting Involved: Technology Development
Our movement of volunteers and passionate supporters can play a key role in the development and delivery of our projects. Sounds exciting, right? In this session you'll hear from our Mobilisation and Technology Development teams who'll present a birds-eye-view of upcoming projects and a recap on what we have learnt from these projects thus far.
We'll be exploring:
What has been achieved in the Technology Development area at EWB so far?
How does volunteering with EWB fit into this online world?
What is currently available for people to get involved in?
Alright, I'm keen, what next?
Presenting will be:
Sam Perkins: Head of Education, Research & Technology Development, EWB Australia
Andy Drain: Technology Development Lead, EWB Australia
Shenuka Peiris: Mobilisation Officer, EWB Australia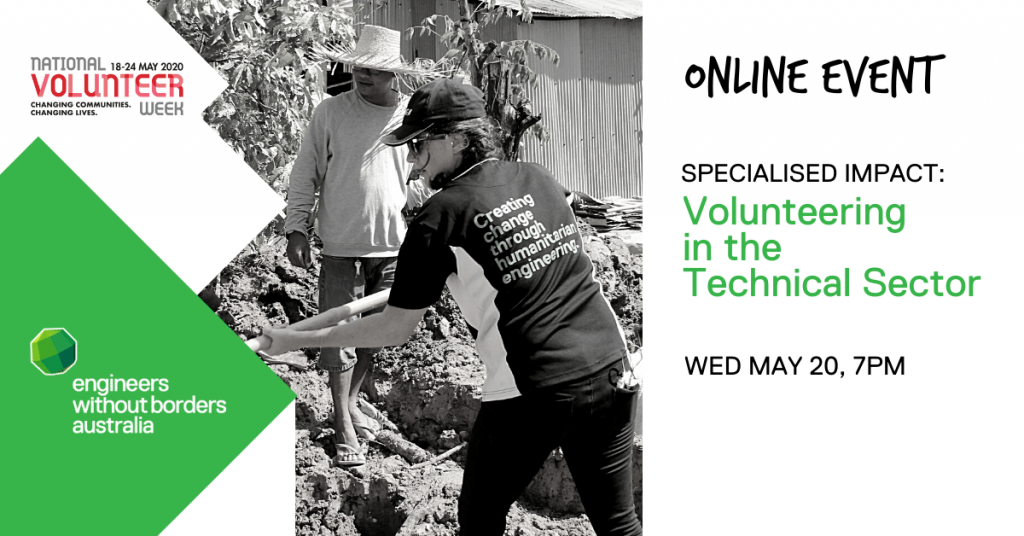 Wednesday May 20, 7pm – 8.15pm
Specialised Impact: Volunteering in the Technical Sector
While the thought of being overseas volunteering in the field might seem like the possibility of a distant past, the impacts of volunteering with EWB continue to be a personal and professional highlight for many of our network. Join us for an engaging, friendly evening of conversation, traversing the experiences of our guests, who have volunteered around the globe.
Now more than ever, people are asking: how can my time and energy be channelled towards activities that motivate and interest me?
Have you ever wondered how you can link your skills with your passion and desire for change? As we emerge from this pandemic, how will you look to focus your career?
We will inquire into how our guests have created meaning in their careers, different ways of influencing the technical sector and the challenges they have faced along the way. Come along and connect with what motivates you, gain insight and inspiration and relax into a world of possibilities.
Our guests will be:
Gemma Arthurson: Gemma is an engineering and community development professional who's experience spans many dimensions! Gemma is on the Humanitarian Field Worker rosters for both Médecins Sans Frontières (MSF) and RedR and recently returned from an MSF mission in Uganda. Gemma has facilitated EWB Design Summits, completed an AVI placement as a WASH advisor in Samoa and worked at Engineering firm GHD in both contaminated site investigation and international development project management.
Heidi Michael: Heidi started her career as an engineer at Aurecon, before a turn of events took her to Timor-Leste as an EWB field professional, in the role of Water & Sanitation Advisor with Bia Hula Foundation Timor Leste. Since then, over the past 7 years, Heidi has gone on to manage EWB's Community Programs (Australia & International), has led the organisation as interim CEO, achieved Chartered status as a Community-Centered Engineer and is on numerous boards of Directors on the side!
Ben Garnock: Ben kicked off his career as a Civil Engineer at Aecom before heading to Cambodia with EWB as a field professional supporting CEDT (Community Empowerment Development Team) in Infrastructure Planning. Since then, Ben has scoped, facilitated and captained many EWB Design Summits in Cambodia and Nepal. Ben brings his experiences to the lucky students at SCU where he lectures in Humanitarian Engineering and Philosophy whilst also taking on a big shift and buying a butcher business in a small town in NSW.