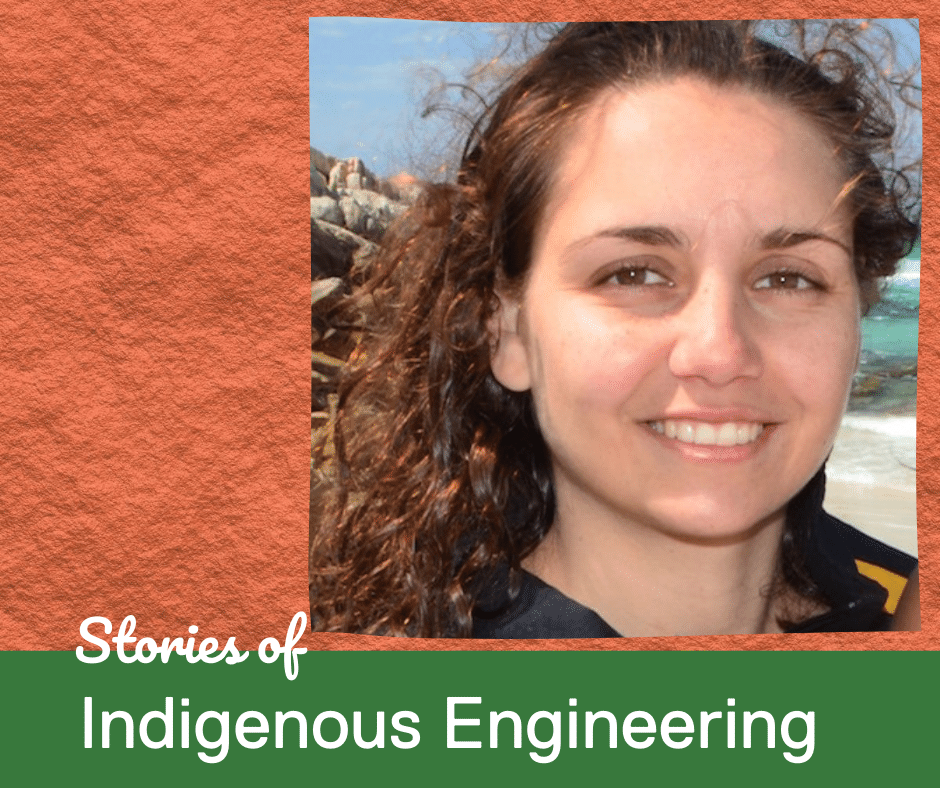 "In engineering, people come to you with problems and you get to be creative and try and solve them. I think that creativity is something everyone wants in a job." Sam Shepherd. Sam shares her perspective in our Stories of Indigenous Engineering series.
"I work at Woodside in Perth as an Environment Advisor. My Mum is from Wyndham, she is Jaru-Gija. My dad is a white man from Perth. I grew up in Northern WA in a lot of country towns including Broome, Fitzroy Crossing and Bidyadanga. I also lived in a remote community called Mulludja – that was a highlight of my life.
My dad was a primary school teacher, he loved maths and really passed that onto me. I grew up loving maths and science.
I remember when I was seven and my dad was trying out a magic trick where he knew the pattern in the theory. As a seven-year-old, I was blown away, I wondered, "How can you do this?" Then he shared the pattern with me and I could do it and from then on, I loved the knowledge of maths – it's so simple, but so powerful.
In high school, I was supported through the Gumala Mirnuwarni Project. I used to go after school every day and study for two hours and smash out my homework. It got me into a good routine. That was the main support in getting to university and what I needed. It was a close-knit group in Karratha, we only had a very small amount of people that studied maths and sciences, and I was the only girl in a lot of the classes.
I first wanted to study engineering when I went on a camp to Sydney. I didn't really want to go on the camp, because I wanted to do sport science, but my parents made me and I went and loved it. I had never heard of engineering. I had preconceptions it was something to do with train driving or something only men did, I had no idea.
I think it spoke to everything I liked – I liked maths, I liked science, I liked looking for solutions to problems and making a difference. When I came back to school, I instantly enrolled in all the subjects to do engineering and I haven't looked back since.
Transitioning from high school, to university was difficult because my parents live in Karratha and I moved myself to Perth. I decided to live with my Nan. It was a bit difficult, but with her support, I found my feet.
I embraced the opportunity to come to a big city. Instead of getting scared about it being a big city, I thought 'Look at all the awesome things I can do.' I can play footy, you can't do that in the country as a woman. So I played state for WA. I also did some surfing, you don't have that in the country towns I lived in either.
The School of Indigenous Studies at the University of Western Australia is a place for all Indigenous students to come and use facilities, no matter what they are studying. There's always lots of other young Indigenous people and we automatically had a lot in common, so I found ready-made friends. I also made lots of friends in my environmental engineering course.
At Woodside, I'm doing a three-year graduate program and I'm currently on my second year – it's been really, really good. One of my career highlights was being the Project Manager for the James Price Point Revegetation project. I thought that was a dream come true to come from the Kimberley and be involved in the decision making to help revegetate the Kimberley region. That was awesome.
I think just being in the room is powerful for Aboriginal people. We have a lot of issues to solve in a lot of our communities, issues that we know the most about. Learning skills in the areas of engineering, science and maths can help ensure the solutions come from us instead of getting handed down from other people. I think that would make a huge impact on Aboriginal people.
What holds Indigenous kids back is they might think university is outside of their realm – it's too hard. But I did it and I'm not a genius by any measure. I just stuck to it and gave it my best shot and it's been really good.
I think the world is really looking for Indigenous voices in all levels of companies and government. They are looking for young Aboriginal kids to stand up, get educated and get out there and they want to leverage that – there are opportunities all over place. So don't hold yourself back. Get through high school and see what happens."
Read more in our Stories of Indigenous Engineering series.
Original transcript and images are from a film directed and produced by Sheena Ong for EWB WA. Interview by Min Hamid. The views and opinions expressed in this video are those of the interviewee and do not reflect the official policy or position of Woodside. 'Stories of Indigenous Engineering' Project supported by Bindy and David Koadlow.