Access to safe and reliable water is a basic human right, and essential for health and quality of life. Yet not all remote First Nations communities can access it. The Engineers Without Borders Australia Engineering on Country (EoC) Water Program aims to ensure First Nations communities in remote Queensland and Western Australia can access a safe, clean, reliable and climate resilient water supply; the knowledge to safely operate and maintain their systems; and the governance structure to support it – for the long term. Water safety planning and testing has begun with communities in Far North Queensland.
The water problem
Would you drink water that looks like this? It's what came out of the tap in a remote Indigenous community that EWB visited in Far North Queensland in November 2022.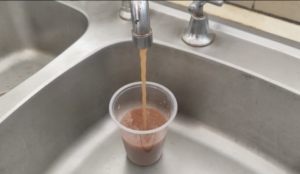 Such water sources may contain harmful chemicals, metals and pathogens.It is estimated that at least 250,000 Aboriginal and Torres Strait Islander peoples are unable to reliably access safe and healthy water on their remote homelands, and as such experience chronic and hygiene-related diseases at higher rates than other Australians. Water contamination is considered a key cause. Children in particular have unacceptably high rates of common health issues, such as middle-ear infections, skin and respiratory issues, and gastroenteritis. These infections have serious impacts, including permanent hearing loss and heart disease. This can affect education outcomes and opportunities. It also leads to chronic diseases in adulthood, contributing to the 17-year gap in life expectancy between First Nations people and other Australians. The remoteness of these communities makes routine water testing and infrastructure development challenging. Lack of funding is also another key factor – remote community water supply usually does not fall under public water service provision.
Building trust and two-way knowledge sharing
Communities are at the centre of EWB's approach and the EWB EoC Water Program is no different. Aboriginal and Torres Strait Islander people and communities are best placed to identify their needs and key priorities to improve access to  essential services, health, wellbeing and opportunities. EWB works with communities to design and provide access to appropriate and sustainable community infrastructure and technology that improves their quality of life and their ability to pursue education, employment or income generating opportunities. Facilitating two-way knowledge sharing and developing respectful relationships are essential to design the right solutions. Key to this is building trust, nurturing relationships and working together in partnership so that First Nations people can live on, and care for, Country.
Community-owned water management for long-term supply
For over fifteen years, water and sanitation have been a focus at EWB – in Australia and overseas. EWB's EoC Water Program builds on this work and aims to co-design fit-for-purpose, fit-for-place water supply systems. This new program includes designing water supply and treatment facilities together that build on local Indigenous water knowledge of the area. It also includes understanding the potential hazards and risks to the water supply that may exist and co-developing management and governance plans for water systems to manage these risks.  
The risk to a water supply is the greatest when there is no regular monitoring and maintenance activities. Simple monitoring activities and plans are developed with the community members for when maintenance, repairs and replacements of equipment may be needed. Water testing kits providing accuracy levels for key components – similar to that achieved within an accredited laboratory – are being provided, and community members are  supported to routinely verify the water health and safety.  
Through designing these projects directly with elders, rangers and other community members, communities have ownership of the project and the benefits to their community.This ownership leads to community-managed water supply protection, testing, treatment, maintenance and operation.
The community water management plans are the beginning of a regular monitoring and maintenance regime that will continually improve the water supplies in each of the participating communities. EWB's EoC Water Program is currently focused on working with communities in remote locations in Queensland and Western Australia. The program has commenced with water safety planning, infrastructure and testing in two communities located in Far North Queensland, alongside community partner, the Centre for Appropriate Technology (CfAT).
With your support we can continue to
co-design and install the water system upgrades, review community water planners and operational and maintenance procedures and provide training to communities and with implementing the water testing program to routinely verify water health and safety in remote community water supplies. Please give to EWB's end of year appeal 2022.
The EOC Water Program is generously supported by Bindy & David Koadlow, with grant funding from the Australian Government for the Port Stewart Water Supply Infrastructure project.
This article is produced as part of our RAP commitment to communicating our learnings and sharing case studies from implementing our RAP.