The Futur-neers Forum was a welcome and long overdue in-person reconnection of EWB's Chapter network after a two-year, lockdown-riddled hiatus. Over 50 EWB staff and Chapter volunteers – representing 16 of the 19 active EWB Chapters dotted right across Australia – convened in Melbourne at the start of April 2022 for three days of meeting, sharing, learning and exploring. We asked delegates about what they gleaned from the conference, and how it can propel the Chapters in furthering their work and EWB's mission.
The importance of in-person connection
"I absolutely loved meeting the people that I had spent hours with on Zoom!" 
Socialising and networking with others is something we've all missed during the Covid years, and EWB's Chapter network is no exception. The official launch of the Futur-neers Forum held on the Friday night, was cited by attendees as a highlight. Held at EWB's Melbourne headquarters, it was shaped as a social evening to welcome delegates, with drinks, grazing plates, a two-piece band, and plenty of time to mingle. As part of the welcome formalities, Kuthur Sriram, Global Manager- Education Program – Bentley Institute at Bentley Systems (the Friday night event sponsor) shared how inspired he was by the people in the room – EWB's Chapter network – that are aligned in their passion and focus to create positive impact. It was just the welcoming inspiration needed, and a great kick-off event to ground these important Chapter connections before the weekend sessions ahead. 
Connection to EWB
"It reinforced to us why we're here and doing what we're doing. In a degree like engineering it's easy to lose track of your values towards engineering. This event helped me get back on track."
Many of the attendees were relatively new to EWB, having only joined their EWB Chapter in the past year. The Saturday sessions at the Futur-neers Forum provided an opportunity to share some of the foundational elements of EWB, including EWB's strategic focus to 2030, how volunteering for EWB works outside of their Chapter network and EWB brand messaging. Delegates felt these sessions enabled them to feel part of the larger organisation of EWB, and expanded their understanding of the organisation they are a part of. Many of EWB's Australian national staff were also in attendance, and delegates welcomed the opportunity to speak with staff directly to gain deeper insights into how the Australian office works and how staff are activating the EWB mission and strategy.
Solidifying relationships
"It was great meeting a wide range of Chapter reps from all over Australia"
As a network, the EWB Chapters are a great resource for each other. Initiatives and sessions during the forum provided lots of opportunities for good discussion, and for Chapter members to learn from others as well as share their own experiences and insights. Attendees commented on the high level of enthusiasm, engagement and excitement, and felt inspired to continue the work in their Chapter. They also reflected on how they enjoyed meeting other like-minded individuals who share the same values and vision. 
Understanding the evolution of EWB's Youth Outreach program
EWB was fortunate to receive a grant from the Australian Government Department of Industry, Science, Energy and Resources through the 'Women in STEM and Entrepreneurship' grant program. This grant has been critical in enabling EWB to focus on deeper support and amplification of EWB's existing School Outreach volunteer network, with a particular focus on empowering women in engineering. The grant not only supported the convening of the Futur-neers Forum. It also enabled EWB to update the content and materials used in the Outreach program. The first of these new modules were unveiled at the Futur-neers Forum.
As part of this refresh, the program has been renamed – changing from 'School Outreach' to 'Youth Outreach'. This name reflects both the existing delivery of the program into primary and secondary students (through innovative and practical hands-on workshops, mapped to the Australian curriculum), other ways we engage with young people, as well as provides a context to activate broader opportunities to share and deliver STEM learning for young people.
Developing a story of self
"The Story of Self provided a really interesting framework to speak on EWB"
A part of being a Chapter representative is being able to share the story of EWB. And of yourself. These two stories are interconnected – we know that people within our Chapter networks are inspired to join peers that are like-minded and share their own experiences, motivations and passions. A session at the Futur-neers Forum focused on understanding how a story of self is constructed and took delegates through a workshopping process of developing their own story. Several attendees then took to the microphone to share these newly crafted stories back to their peers, and even integrated them into their own presentations later in the Futur-neers Forum program.
Gaining ideas and sharing knowledge
"I feel inspired by how other Chapters run." "I gained ideas for how I can better lead the Chapter"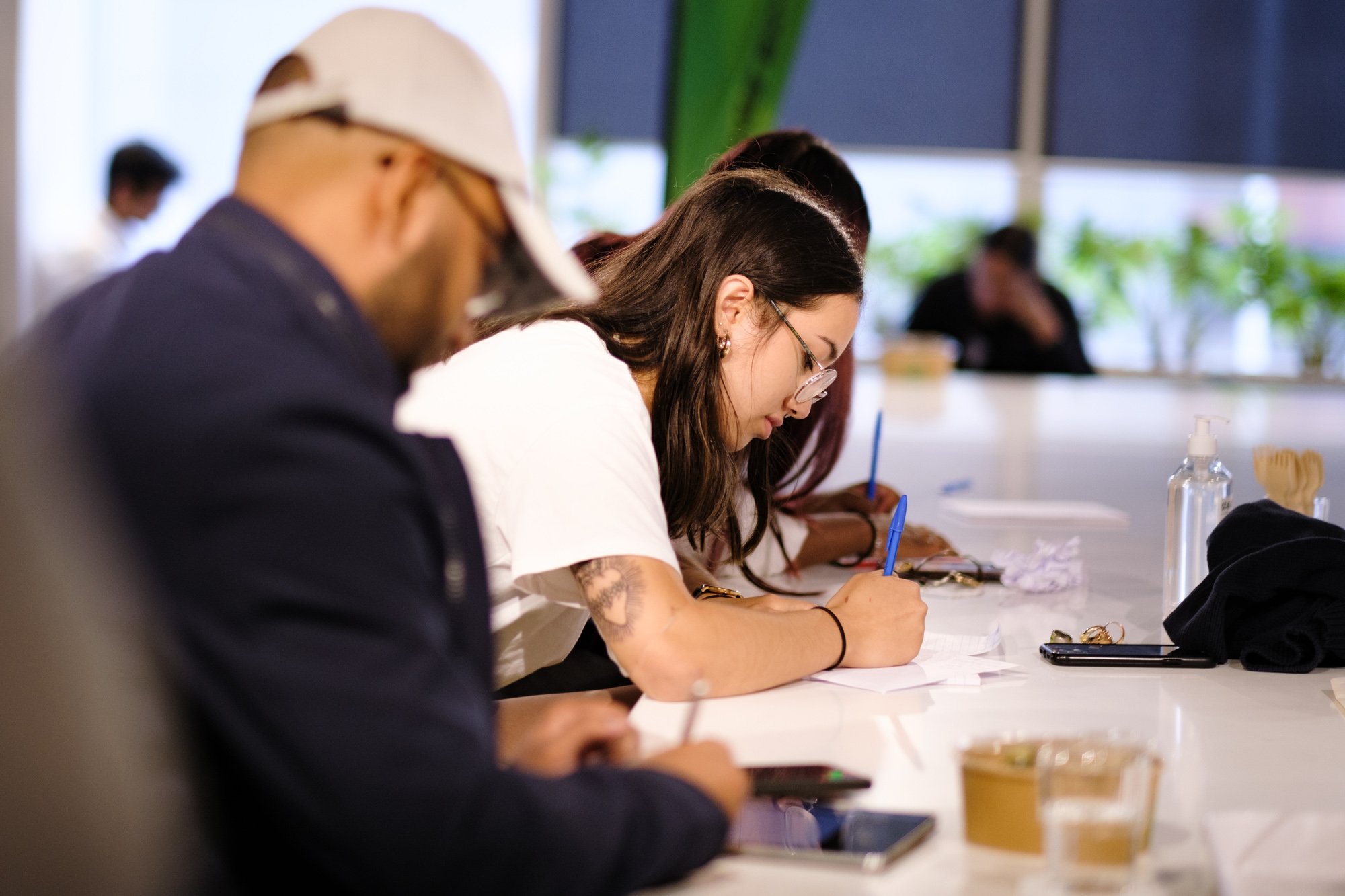 Through casual opportunities to network, formalised presentations, and the Sunday 'chat sessions' focused purely on delegate connection, attendees had lots of time to share their Chapter insights. This resulted in loads of learning and ideas for new initiatives and better operations. The following were just some of the reflections from delegates:
"The innovation challenge meeting was really inspiring and gave me a lot of new ideas"

"I had prompts that made me rethink how I run my programs"

"I now know how to update the club's activity plans, grants info etc. And how to seek help to start EOC  events and info sessions"

"It was great to get to share information about how each chapter runs and I gained many valuable insights into being a better Youth Outreach Coordinator"

"I loved hearing everyone's stories and motivations"
What's next?
"(The event) helped me assess what our Chapter was doing right and what more we must do."
It's important to reconnect. To learn. To share. But then what? Delegates were encouraged to reflect on their experiences at the Futur-neers Forum and determine how they would convert these learnings into action at their Chapter level. Here are some of the outtakes of what Chapters delegates determined is next for them:
Collaboration: more active comms and discussion with other Chapters; communicate with other chapters to get event ideas/opportunities we can translate to our region; Interact with national committee

Youth Outreach: implement updates to the workshop kits; expand youth outreach capabilities by introducing new workshops

Fundraising: redefine budgeting and sponsorship procedures; apply for RS Components regioneering grants; organise more funding and partnerships

Story-telling: Write a 'write to self' as it will help engage others to join EWB so they can see what value they will get after joining – I will try to say it at O Week and our events; promote humanitarian engineering as a path in engineering to pursue rather than just being an engineering club

Improved systems and processes: Use Volaby; organise flow of information so that when people come and go, knowledge will not be lost; rethink my idea of how the Engineering on Country program should be run

New initiatives: I plan on implementing the high school innovation challenge – inspired by Melbourne Uni; organise hackathon, tiny house project; conduct Regioneering trips

Recruitment: create new events with the goal of boosting engagement and volunteer recruitment; get more people involved in Regioneering; get more first years on board.

Non-attendees: Share back all the learnings from this event to the Chapter
Futur-neers Thank you
The Futur-neers Forum was made possible through the Australian Government Department of Industry, Science, Energy and Resources through the 'Women in STEM and Entrepreneurship' grant program and delivered alongside other collaborators, EWB staff and volunteers. 
Friday night welcome event
Futur-neers Forum
Venue sponsor:

Engineers Australia

Welcome to Country:

Wurundjeri

Gunnai Kurnai Elder, Uncle Ringo 

Catering:

Asylum Seeker Resource Centre

 

Session Presenters: Aimee Ryan (UWA Chapter), Elise McCaul (UNSW Chapter), Charlotte Radel (UQ Chapter), Nicole Sandow (UTS Chapter), Kevin Ambosta and Chelsea Hayward (Volunteers -EWB Australian Office), Eleanor Loudon, Alison Stoakley, Erin Wicking, Farhiyo Bear, Llawela Forrest and Melanie Audrey (Staff – EWB Australian Office).
Content Capture
Chapters
Thank you to the 45 delegates who represented the following EWB Chapters:
ACT Region Chapter

Curtin University Chapter

NSW Region Chapter

Macquarie University Chapter

Monash University Chapter

Queensland University of Technology Chapter

RMIT Chapter

SA Region Chapter

University of Melbourne Chapter

University of NSW Chapter

University of Queensland

University of Technology Sydney Chapter

University of Western Australia Chapter

University of Western Sydney Chapter

Victoria Region Chapter

WA Region Chapter