Engineers Without Borders Australia (EWB) has teamed up with long-time, corporate friend, Bentley Systems, to spark curiosity in future engineering students through the delivery of the Innovation Challenge (26th – 28th November 2021).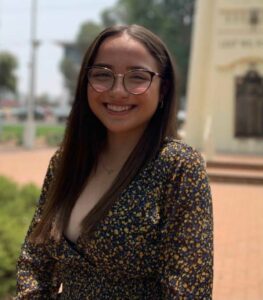 Andria Zanotto is an EWB volunteer and second year engineering student from rural New South Wales. Growing up she didn't have much exposure to STEM or Engineering. Where she was growing up,  girls weren't encouraged to take STEM subjects or consider careers traditionally perceived to be male oriented. 
"Somehow, I always knew engineering was the right fit for me because I loved solving puzzles and working with people. Any opportunities, workshops, engineering camps which were at my disposal, I seized, as I knew I needed to make those strides for the life I envisaged. I was not going to let something as trivial as my geography be a barrier any longer," she said.
EWB-Bentley Systems Innovation Challenge
Andria is part of the EWB Melbourne University chapter organising team producing the Innovation Challenge – an annual STEM outreach initiative taking place on 26th – 28th November 2021. The Innovation Challenge aims to inspire and empower future engineers, primarily from backgrounds currently under-represented in the engineering sector.
Designed around a series of 'mini-challenge' workshops, guest presentations from current students and industry professionals, and a larger 'Design Challenge' team activity. The workshops are hands-on, creative, and draw on EWB's existing portfolio of engagement activities – designed to illustrate the humanitarian nature of an industry often misunderstood as purely technical. 
Human-centred Design Process
In the 'Design Challenge', teams are guided through a human-centred design process by Bentley staff and current university students affiliated with EWB who act as 'design mentors', supporting and connecting with participants as they work through the process of developing an engineering solution to a relevant real-world challenge.
Vinayak Trivedi, Vice President, Bentley Education – Bentley Systems said, "Bentley Systems is pleased to sponsor the 'Innovation Challenge' program, which aims to empower students who are underrepresented in our sector, such as girls and Aboriginal and Torres Strait Islanders. 
This program truly aligns with Bentley Education's values of helping students from all backgrounds transition into the professional world and create world-class talent to improve their quality of life and positively change the world."
A decade long partnership 
Engineers without Borders has partnered with Bentley Systems since 2011. The  partnership began with a focus on society, environment and professional sustainability. In later years the partnership focussed primarily on impact through education with specific focus on Regioneering and Schools Outreach, EWB's flagship STEM outreach program.
"We are grateful to Bentley Systems for the continued support and sponsorship of the Innovation Challenge.  Together with our volunteers we will be igniting a passion for human centred engineering in future engineers who will go on to have a positive impact in communities both in Australia and overseas. Without our corporate partners it would be impossible to bring such programs to life," said Enrica Longo, EWB Partnerships and Philanthropy Manager.