By Melanie Audrey (She/Her)
At EWB we nurture our network to be progressive, inclusive and welcoming of diversity. However, we were about to learn that safe workplace culture doesn't exist because it should, it takes strong internal advocacy. In 2018 an EWB Chapter President confided that these attitudes, beliefs and values were not widespread through all pockets of our movement. It began a journey, from there to this week, where we proudly celebrated co-founding, alongside 12 of our corporate friends and Engineers Australia, the launch of InterEngineer – a network of LGBTIQA+ allies from metro, suburban and rural Australia. 
Immediate response
After learning that one of our chapter members who identified as LGBTIQA+ had an experience that didn't live up to our values, I was proud to be a part of a process to increase awareness, proactivity and inclusivity of the LGBTIQA+ engineering community. At the time we had a self nominated group of individuals who were meeting fortnightly to explore all things Diversity and Inclusion. Upon relaying the situation to the group, they acted quickly. The group agreed to formalise, changing names from 'Chips & Chats' to a 'Diversity and Inclusion Working Group' and creating a Terms of Reference (ToR). Next was seeking advice on how the EWB National Office could take the lead for our network, by creating a more inclusive environment. 
Turing Circle
Dr Tana Tan, a long time EWB'er and founder of Turing Circle – an organisation which aims to bring LGBTQIA+ individuals studying or working in science and engineering together – provided valued tips and guidance. It was surprisingly easy to make tangible changes towards greater inclusion.  Within days those who identified as LGBTIQA+ or were an ally, had small rainbow flags on their workstations, we introduced pronouns to our email signatures and in the working group meet-ups that followed, we examined and committed to more inclusive language, schooling ourselves on the most appropriate vernacular. Seemingly small steps, these actions aimed to embed awareness and thinking into our daily work lives. Later in the year we delighted to participate for the first time in Mardis Gras. It enabled us to become  a publicly supportive LGBTQIA+workplace!
Mardi Gras 2020
Four staff and a Board Member self funded to get to Sydney and march under the EWB "Fabulous Engineering" banner in the Turing Circle (Scientists and Engineers) float. It was an electrifying experience. A highlight was being approached by a witch from the float in front, which had broken down. EWB colleague Bianca – a mechanical engineer and transformative change facilitator, went in to solve and save –  restoring power to the witches and warlocks float generator. They never doubted for a moment that she would succeed! Engineers really are the ultimate problem solvers!
"To be involved in Mardi Gras with EWB, was stripping away another layer of what it means to be an engineer and just be me, hardhat 'n hot pants, spreadsheets 'n sparkles, identity lines blurring and realising they might as well dissolve," said participant and EWB staff member, Sarah Herkess.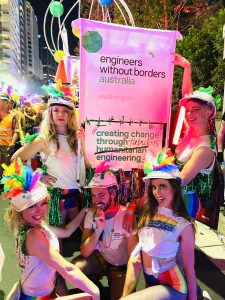 InterEngineer
In June this year, I began working with a group of LGBTIQA+ identifying professionals on the formation of an industry group called InterEngineer. Supported by Engineers Australia the group initially met monthly and then fortnightly to plan and launch a much needed, formally recognised group, supporting LGBTQIA+ engineers and allies with leadership, mentorship and advocacy for greater inclusion practices.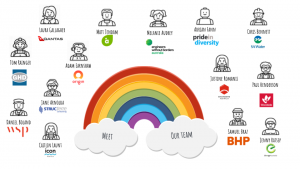 The group was spurred on by the alarming trends showcased in the 2020 Australian Workplace Equality Index (AWEI)'s annual employee survey which identified a 19% decrease (compared to 2019) in the number of employees who were completely open about their diverse sexual orientation at work. The report also found that the youngest employees are those most likely to not bring their whole selves to work and women are less likely to be out than men. 
Research continually shows that employees who bring their authentic selves to work are more productive, engaged and creative, so these trends sit uncomfortably against the growing area of workplace protection and celebration for LGBTIQA+  people. Furthermore, companies with a robust diversity and inclusion culture are also shown to be more innovative and responsive to clients' needs.
A successful launch
On Wednesday, InterEngineer launched to 118 attendees via an online event. Our two guests speakers included Kate Summers, FIEAust a highly respected engineer with 26 years of experience within the power industry and currently working as Technical Executive – Power Operations with WSP, and Taylor Cougle – who has over 34 years national and international experience within Telecommunications, Manufacturing, Professional Services, Retail and Business Consultancy.  
As an audience member, I was spell-bound by their personal stories. I marvelled at  their resilience as they faced judgement and othering, whether that be in the boardroom, with colleagues, or middle-management. I noted the importance of tackling unconscious bias, and of how on important events like 'Wear it Purple' day, can be, through the relief of finally not sticking out – not as female, not as queer.
At EWB we still have much to do to embed greater diversity and inclusion across our network, there's no silver bullet but our staff are committed. We are match-ready. Social justice can't wait. 
To learn more about InterEngineer, please visit: https://www.engineersaustralia.org.au/interengineer or via Linked In: https://www.linkedin.com/company/interengineer