View the webinar recording here.
Despite the opportunities available to women in engineering, the percentage of women in the engineering workforce sits below 13%. Defying the national trend, at Engineers Without Borders Australia, women make up 30-45% of the programs that we run, and 59% of our leadership. 
This International 'Women In Engineering' Day (Tuesday June 23 2020), join our all-women panel, as we explore the barriers to women entering and staying in the profession, of how society might look if we had more women in leadership positions within our industry, and in the time of critical global challenges (climate change, bushfires, Covid-19 #BlackLivesMatter), what role women in engineering can play to shape a world that we need.
Tuesday June 23, 1:00pm to 2:00pm
Event Webinar: Femgineering – how women in engineering #ShapeTheWorld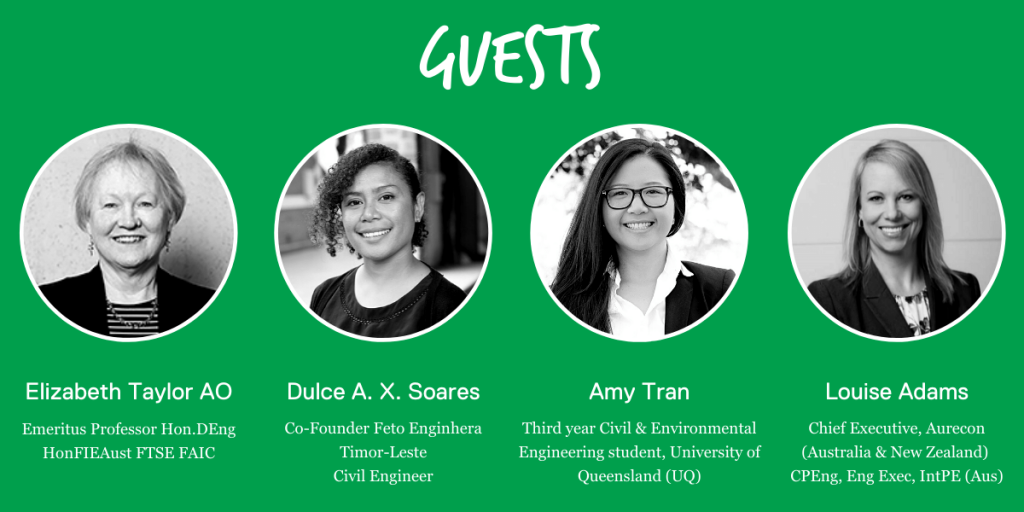 About Our Guests
Elizabeth Taylor AO, Emeritus Professor Hon.DEng / HonFIEAust FTSE FAIC
Elizabeth spent 10 years in design and construction management. She then joined UTS as the Women in Engineering Coordinator before moving into academia, during which time she completed a law degree. In 2009 she resigned as Pro Vice-Chancellor and Executive Dean, Faculty of Sciences, Engineering and Health, CQUniversity. Presently she consults with various organisations on education and asset management. She has always engaged in diverse pro-bono work. Within Engineers Australia this has included Accreditation Board Chair, Sydney Division President, Chair of the National Women in Engineering Committee and of Engineers Media and membership of two Code of Ethics reviews. She chaired the Board of Professional Engineers of Queensland for 8 years. Currently, Elizabeth is Chair of the Cambodian Children's Trust Australia, RedR Australia and RedR International. She is Deputy Chair, Washington Accord, International Engineering Alliance. In2004 she was appointed an Officer of the Order of Australia. In 2018 she was UNSW Engineering Alumni of the Year and her work recognised with an Honorary Doctorate in Engineering. Elizabeth is an Honorary Fellow of Engineers Australia, Fellow of the Australian Institute of Company Directors and 2015 was elected to Fellow, Academy of Technological Sciences and Engineering.
Dulce A. X. Soares, Co-Founder Feto Enginhera, Timor-Leste, Graduate Engineer in Civil Engineering (2013) & Certificate Advanced Diploma in Architecture (2006)
Dulce is the co-founder of the Women in Engineering (WiE / Feto Enginhera) group in Timor-Leste and is the acting WiE Program Coordinator for EWB Australia in Timor-Leste. Dulce has over 7 years of experience working in humanitarian organisations and the engineering industry mainly focus in the area of WASH, women empowerment, facilitation, leadership and movement. She held a National Lead-Leadership role in the educational and intercultural program through sustainable community partnerships run by the Destination Dreaming organisation. In 2019 Dulce became IVLP Alumni after she participated in the International Volunteer Leadership (IVLP) Program named #HiddenNoMore 2019 in US for Women in STEM. 
Amy Tran, third year student studying Civil & Environmental Engineering at the University of Queensland (UQ). Bachelor of Business Management (UQ). 
Amy has been actively involved in all aspects of university life outside of her studies. She is currently a student leader with Women in Engineering at UQ, Secretary for EWB UQ Chapter and an EWB Design Summit Ambassador. Amy attended an EWB Humanitarian Design Summit in Cambodia, where her team focused on using the tool of Human Centred Design to rapid prototype a water filtration system to improve poultry health as a sustainable income source for the community of Koh Dambong, Cambodia. Amy would love to work globally and make a positive difference on the world. She is passionate about the humanitarian side of engineering, and also aspires to continue her involvement in bringing diversity into STEM. 
Louise Adams, Chief Executive – Australia & New Zealand, Aurecon. Fellow of the Institute of Engineers, holding the accreditations of CPEng, Eng Exec, IntPE (Aus) and a graduate of the Institute of Company Directors.
Louise is responsible for Aurecon's operations across Australia and New Zealand, leading approximately 4,500 people and a member of Aurecon's Group Executive Leadership Team. As one of only two females to graduate with a Bachelor of Civil Engineering degree from the University of South Australia in 1991, Louise has a passion for organisational diversity and the role it plays in innovation, and is a passionate advocate for female leadership and equality within STEM. Through her roles, Louise is uniquely placed to influence positive change within Aurecon and across the industry. In 2016 Louise received a high commendation for Female Champion of Change in Consult Australia's Excellence Awards and in 2018 she was awarded a Chief Executive Women Scholarship to attend the Wharton Business School of the University of Philadelphia. She is a member of Australia's Chief Executive Women group and is a committee member for Infrastructure Partnerships Australia's Women's Infrastructure Network Steering Committee. Since 2019 she has sat as the only female CEO Advisor to Consult Australia's Male Champions of Change and in May of 2020 stepped into the Chair role.
About Our Host
Heidi Michael, Chartered EngExec (2019), BEng (Env)(Hons) (2006), MSc Water & Waste Engineering (2016)
Heidi is a chartered executive-level engineer and leader with almost 20 years experience across a broad range of social impact engineering and infrastructure projects. Heidi has drawn on her environmental, water and wastewater qualifications and leadership skills to lead teams in designing and delivering inclusive and collaborative social infrastructure projects, across Australia and Asia Pacific technical sectors, including Northern Australia, Timor-Leste, Cambodia, Vietnam, Vanuatu, Indonesia and Samoa with EWB Australia. In 2019 Heidi was recognised for her achievements and was awarded Highly Commended for the Professional Engineer of the Year Victoria awards.  Heidi is passionate about addressing inequalities in society including gender inequalities in leadership, and building resilient communities.