EWB Australia realised early on that one of the best ways to achieve reach Sustainable Development Goal 6 is to build the knowledge, skills and opportunities of WASH organisations working in the local sector, and to do so with a focus on the inclusion and engagement of women.
Daniel Miller-Moran, currently an EWB Australia Field Professional is working with Plan International on the Sustainable Water in Municipality (SWiM) project which aims to develop rural communities' capacity to manage their own water supply in the mountainous district of Aileu, Timor-Leste. Daniel works directly with the SWiM team to advance their design and technical skills, including training in and use of a water surveying app 'mWater' to conduct baseline surveys of 27 villages' water systems in Aileu.
The design, procurement and installation of rural water supply systems can result in hundreds of direct beneficiaries – giving communities access to clean water and freeing up time used for water collection for other economic and educational activities. However the delivery of water supply systems alone does not translate to sustainable water delivery. To this end, the SWiM project team has spent considerable effort restructuring, training and supporting local Water Management Groups to be able to oversee small repairs, ensure water safety and collect tariffs to guarantee the whole community has access to clean water for years to come.
Daniel as part of the SWiM team engaged local women's empowerment group FADA, to deliver leadership training to female community members, before elections were held to appoint members to the local Water Management Groups.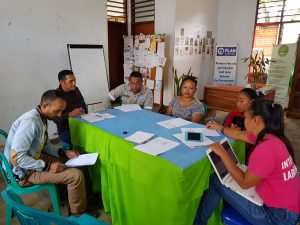 The training ensured that women had the skills and knowledge to undertake water management roles, and the percentage of women holding these positions in the local Water Management Groups increased from 32% to 50% .  Pictured are newly elected female members of a local Water Management Group drafting up their own rules to protect and conserve their water supply.
Supporting increased agency for women to manage their own water supplies has been shown to improve sustainable water supply, leading to important outcomes of communities such as a reduction in the prevalence of child malnutrition.
Reaching SDG6 requires a strong national WASH sector, but it is not all about technical solutions. Being inclusive of committed local stakeholders such as women and young technical professionals, builds a foundation of skills that can sustain lasting positive change.
This story has been shared by Daniel Miller-Moran, currently EWB WASH Field Professional working with Plan International in Timor Leste.
This program is proudly supported by ANCP and Australian Aid