An inspiring two-days of meeting, sharing and learning amongst the incredible EWB Chapter network!
New and active members of the Chapter network are encouraged to join us in a welcome return to connecting in person! 
The EWB Futur-neers Forum will bring together exceptional young leaders from across Australia who are committed to engineering a more equitable world for the planet and its people. 
Representatives from EWB's 20+ volunteer-led Chapters will assemble in Melbourne for a two-day series of inspirational speakers, social gatherings, professional networking and two-way knowledge sharing of the successes, the opportunities and the fresh ideas that abound amongst the EWB Chapter network.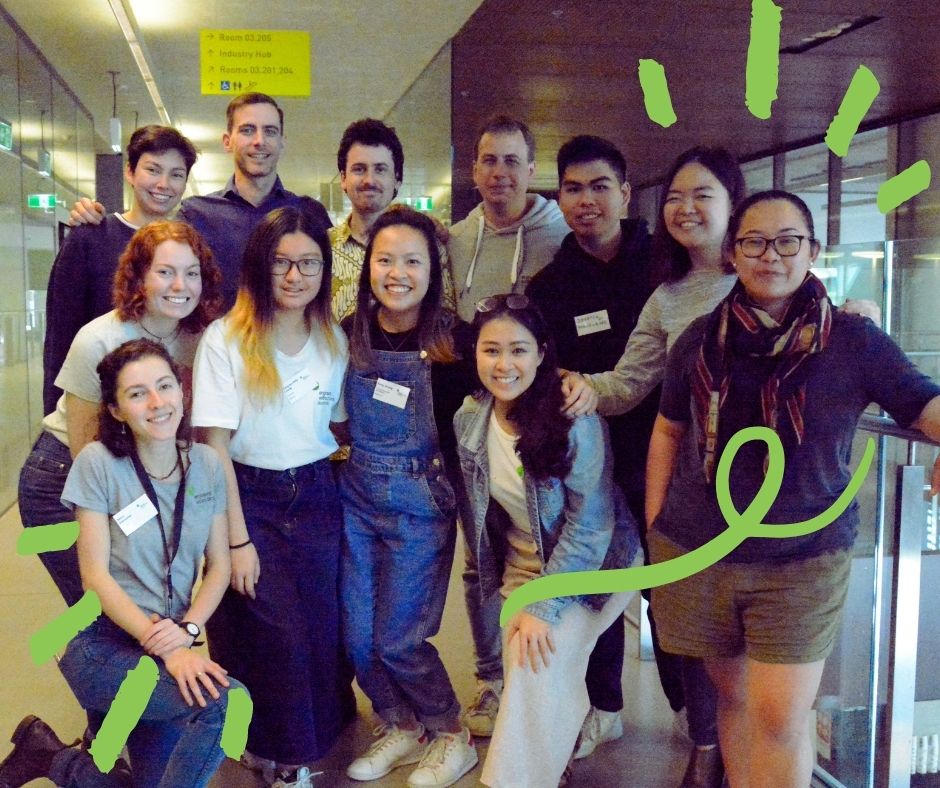 Participation Streams
The Futur-neers Forum 2022 includes both in-person and virtual participation streams.
In Person: Each Chapter is invited to select three "In Person" Delegates to travel to Melbourne for the full event.
Virtual: An unlimited number of Certified Chapter Volunteers are able to attend selected sessions on Saturday April 2nd as "Virtual Delegates" from the comfort of their own home.
All delegates must be registered as Certified Chapter Volunteers on Volaby before registering to attend this event.
Evening
Timing: 5:30pm arrival for 6pm start – 8pm
Location: Our Community House, 552 Victoria St, North Melbourne VIC 3051
Futur-neers Forum Welcome Event
Arrive. Integrate. Invigorate. Our Friday night dynamizes the scene for a weekend of Futur-neering. We will be uplifted by our inspirational sponsors, networked with Chapter Volunteers from different states and engaged in brain bending, heart-opening conversation. This event is fully catered and numbers will be capped, so be sure to RSVP by Wednesday 23rd March 2022. Please note this event is for In-Person Delegates only.
Day
Timing: 9:30am arrival for 10am start – 5:30pm
Location: Engineers Australia Melbourne office, Level 31/600 Bourke St, Melbourne VIC 3000
EWB Volunteers – mobilised and ready for impact!
Learn more about the mission, vision and strategic plan of Engineers Without Borders Australia and how to achieve positive community impact through EWB Chapters. Gain a better understanding of the type of engineers we aim to develop through EWB programs and how you can be an advocate to communicate EWB's key messages throughout your community and workplace. Explore existing EWB programs and exciting new programs on the horizon which you could get involved with in 2022 and beyond.
Engineering re-defined: you as a socio-technical engineer
Explore the importance of socio-technical engineering and your role in building a better future for people and planet. Be inspired by stories from the field from engineers using their skills to promote humanitarian engineering and create positive change as they seek to progress the United Nations Sustainable Development Goals. Start planning how your Chapter can use its programs and events to promote socio-technical engineering to both students and practicing engineers.
Keen to get a head start? Why not test your understanding in this quick quiz on engineering for sustainable development! Click here to play.
Futurneers – sparking youth curiosity through STEM
The Futur-neers project is GO and we're ready to share all the big developments from the first 6 months of the project with you. Sit back and enjoy the new suite of Youth Outreach Module Catalogue workshop materials and take part in discussion groups with other Youth Outreach volunteers to help share best practice to further develop your facilitation skills with young people. Be inspired by case studies from EWB Chapters who are delivering innovative Youth Outreach programs outside of standard workshops and Regioneering Trips and start planning how you might take your Chapter's youth outreach programs to the next level!
Morning tea, lunch and afternoon tea will be provided for In-Person Delegates.
Virtual Delegates will be able to select one or several different sessions to Zoom into throughout the course of the day. Please note that not all sessions running in-person in Melbourne will be open to virtual participation.
Evening
Timing: 6 – 9:30pm
Location: East Melbourne Library 122 George St, East Melbourne (25 min walk from Flinders St or 5mins from Jolimont; Stop 11 on the route 48 tram from Collins St or 75 tram from Flinders St.)
'The Great Outdoors' Trivia Night, presented by EWB Victoria Region Chapter
Come and join us to learn some new random facts and have a few laughs at our Trivia Night event!
There will be a raffle, silent auction and other special opportunities to win a bunch of prizes on the night. Raffle prizes include a $379 Skydive Australia voucher, a $100 Dorsu ethical clothing voucher, and a double pass to watch a movie at the Sun Theatre in Yarraville, VIC.
Pizza will be provided on the night (including vegetarian, vegan and GF options). Guests are welcome to BYO snacks and non-alcoholic drinks. This is an alcohol-free event.
All proceeds from the night will go towards the humanitarian work carried out by Engineers Without Borders Australia. Click here to purchase your ticket. 
Day
Timing: 10am – 2pm
Location: Flagstaff Gardens
The Big Sunday "Chapter Chat"
We know that two heads are better than one – so imagine the wealth of knowledge that comes from a whole Chapter Network coming together! Sunday's sessions will be a more casual approach enabling In-Person Delegates to share ideas and work together to identify strategies to better enable success and impact within their Chapter. Learn how other Chapters are successfully engaging with their local communities and innovate to develop ideas and inspiration for bigger and better Chapter impact in the post-COVID world.
Sessions will finish early afternoon to enable participants time for return travel. Morning tea and lunch will be provided for In-Person Delegates.
COVIDSafe Requirements
In line with the EWB COVID-19 Activity Guidance document, all In-Person Delegates and presenters will need to return a negative Rapid Antigen Test before attending their first Futur-neer Forum session. EWB will include an additional payment with all Travel Subsidies to help In Person Delegates cover the costs of purchasing a RAT.
In addition to this requirement, our venue for Saturday and Sunday's sessions (Engineers Australia) stipulates that a valid vaccination certificate must be shown to enter the venue. Thanks for your understanding and support to help keep our event COVID Safe.
Travel subsidies for Chapter delegates
Travel subsidy amounts are based on a Chapter's distance from Melbourne and must be used to enable three Certified Chapter Volunteers to attend the Futur-neers Forum:
QLD-based Chapters: $900 per Chapter
NSW and ACT-based Chapters: $600 per Chapter
SA-based Chapters: $600 per Chapter
WA-based Chapters: $1200 per Chapter
Each Chapter Executive will determine their own process for selection of subsidised participants and how much each participant will be provided from their Chapters' overall travel grant. Travel and accommodation costs outside of these subsidies are at the delegate's own expense.
Registration
Registration for In Person Delegates (who have been selected by their Chapter Executive) will close on Monday February 28th at 10am AEDT.
Registration for Virtual Delegates will close on Friday 25th March at 10am AEDT.
Note: Please do not register as an In Person Delegate until you have been approved by your Chapter as one of their three In Person Delegates.
The EWB Futur-neers Forum is supported by

About the Futur-neers program: This event is funded by the Australian Government Department of Industry, Science, Energy and Resources through the 'Women in STEM and Entrepreneurship' grant program. The program focuses on deeper support and amplification of existing school outreach volunteer network, with a particular focus on empowering women in engineering.
Queries? Please contact:

Erin Wicking, EWB Chapter Lead, e.wicking@ewb.org.au